Student experiences - Dominica
Joel Lambert - MB ChB Medicine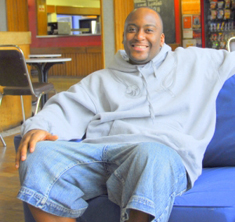 I am a second year (in 2007) medical student from the island of Dominica, many people confuse it to be the Dominican Republic, however it is due south east of the Dominican Republic and is nestled in the Caribbean Sea between two French islands (Guadeloupe and Martinique).
After graduating with a First Class undergraduate degree in Biochemistry & Physiology, I decided to apply to Bristol University to read medicine as I was looking for a new challenge along with the fact that I have a strong family history of people involved in medicine.
Bristol stood out for a number of reasons, first because many in my leisure time my motorcycle rides took me through the West Country which I absolutely love as it reminds me so much of home. Second, Bristol University has an amazing history of academic prowess and research and I believe it to be a premier world learning and research institution. I also wanted a change from the urban setting of London and Bristol provides that unique and balanced blend of both urban and rural.
Last but certainly not least is the vibrant and holistic student life offered in the city. It is highly integrated and is a shining example of student support at its finest; you actually meet genuine people.
There are vast opportunities to get more involved as I serve on the Afro-Caribbean Experience Committee as Sports Rep. and I am also a member of Orbital Football Club; a university intramural team.
I would highly recommend Bristol not only to fellow Dominicans but also to Caribbean applicants as a whole as life in Bristol is easily adaptable to the West Indian experience.
Good luck in your applications!