Student experiences - Colombia
Laura Marquez Perez - MSci Mathematics and Philosophy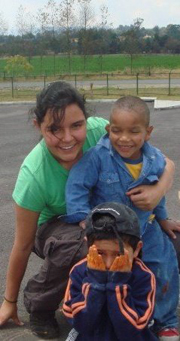 Applying to Bristol was probably the most random life-changing decision that I have ever taken. About an hour before I submitted my UCAS form, I decided to take the advice of a girl I briefly met in a lunch that same week, and changed my sixth choice to Bristol University. Soon after I found myself firmly accepting a conditional offer to a place that, months earlier, wasn't even a blip in my radar. My exam results came in, followed by months of visa applications and waiting for the post to bring all the letters and documents that I needed to finally come to Bristol.
There is only so much you can learn through Internet sights and brochures, and coming to Bristol was still a bit like stepping into the Twilight Zone. I had no idea what sort of place I was going to be arriving at and what sort of people I'd meet, but to be honest, that was all part of the thrill. When I arrived, it took me two hours of walking around to fall in love with Bristol. I found exactly the sort of place in which I imagined myself living when I decided to come to England.
So far things have only improved. I have managed to keep myself busy with the Basketball team, Student Council, RAG and many other societies and activities that both the city and the university have to offer. Even though I am still confused regarding some aspects of my course, and I do not necessarily like everything about it, the University comes relatively close to the intellectual Mecca that I came looking for.
The thing that has made the whole thing worth it, though, is the people. In the few months that I've been here I have made what could be regarded as an excessive amount of close friends. The social side to university life makes it a lot easier to cope with the stress that can be caused by coursework, and Goldney Hall, the place where I very luckily live, is currently a second home for what is probably the best group of people that have ever set foot in Bristol University.
As of right now, things are going well. I don't know where I'm headed, and I don't care either because I have plenty of things to do right now that, for the moment, prevent me to think and worry about it.