Student experiences - Azerbaijan
Orkhan Jalilli - LLM Commercial Law
I found out about the University of Bristol through my IELTS instructor. It indeed attracted me because of its place in university rankings, which eventually affected my decision in picking up Bristol among others who had accepted me. On the other hand, the choice of taught units also played a crucial role in my decision as I was interested in Intellectual Property, which was the principal subject of my postgraduate education.
I really enjoy the environment of education here. Everything has been devised and designed to set students free from all other inconveniences and take a good grip of their study. The vast availability of online materials let you stick with your study even at home expanding your opportunity of doing your best of your study. The tutors are so keen on teaching and trying to give you all they have got that you have every chance to get truly into the subject and try to learn every tiny detail with a big enthusiasm. They are all well-experienced professionals of their subjects. The way they talk in lectures makes you absorb information with a great curiosity. You do not want to miss any single lecture, but if you do, you can always access it online later. Seminars are usually once in two weeks and organised to discuss particular topics that have been professed in lectures.
I have also found it really useful that they provide additional lectures about English law system or educational methodology such as writing essays and so on, which allows you to get easily accustomed to their study manners and learn what they actually expect from you.
The vast choice of units allowed me to discover some additional unit types the availability of which I was not aware before, though found them incredibly fascinating afterwards. Whilst when I first came here my aim was Intellectual Property Law, now, close to the end of my course, all of four subjects are almost certainly equally-interesting to me. The other ones are Company Law, Privacy Law, and Information Technology Law.
If in my country your attendance of lectures, preparation of writing materials etc strictly affect your overall mark, here your study style is more independent and is basically up to you. What is actually important is your understanding of the subject, which is assessed through essays, courseworks and exams. While at first glance it might seem merely a difference in educational system, on the other hand, in my view, it is much more important than that. The free educational environment both on your study manners and ideological progress of your thoughts in essays are the guarantee of effectiveness of your work in terms of coming up with new ideas in the field as well as independent evolution of your ideas.
But it is not only about studying all the time. Fortunately, in contrast to my expectations about Bristol that it would be a small city with all-day-noisless atmosphere, it turned out to be absolutely vibrant and colourful. There is a mass of opportunities of hanging out and having fun, so you never get bored during holiday times between terms if you have not gone back to your country. Despite I am not a club-person, I can definitely say that big and charming in-faculty holiday balls or all sorts of small entertaining parties won't let you think that you should have gone back to your country. Pubs and clubs is the essential part of nightlife over here where it is usually full of people having fun.
There are parks with squirrels in it where you can enjoy fresh air and green environment or spend your time reading a book. There are a few museums that you would not want to miss if you are a history-lover or an art person. If you are none of them, but like shopping, then the city centre is designed for you where you can benefit from all of well-known brand names.
Put it short, it is a place where thought-provoking and hard-work-requiring education is effectively harmonised with all possible kinds of outdoor activities. If you ask me, I would not mind staying here studying and exploring further dephts of law in order to find out new ideas of regulation that would bring some benefit to humanity. Anyway the experience and knowledge I have gained here is indisputably valuable enough that I can also take it back to my country and have it implemented in my future career.
---
Naila Omarova - MSc International Relations
I have always been enamored with UK and have always wished to study here. When I got such a chance, first of all, I made a research and due to its profound educational system, wide range of research areas and choices of units, and its top place among UK universities in the ranking lists, I have chosen the University of Bristol.
Now, I am doing my MSc in International Relations at the University of Bristol. I have always been very determined to specialize on one of the spheres of international relations, and thus, I have chosen International Relations as my main subject area.
The most important thing about my future career plans is to become a part of international affairs system in our country. Nowadays, Azerbaijan is in need of young, educated, enthusiastic and perspective youth who can successfully lead Azerbaijan through challenges of globalizing world by efficient apply of high skills and competencies, and eventually, achieve sustainable development and democracy. Herein, I am considering being one of the young in Azerbaijan working for the development of this country through effective application of existing resources, solid knowledge and exceptional experiences and skills that I will have gained during my education.
If you ask me what I like the most about my education here in the University of Bristol, my answer will be an exceptional teaching style in that class debates and discussions and oral presentations develop and improve our critical thinking ability and provide us with useful transferable skills; very encouraging professors (I do thank all of them); and career opportunities that it offers. Moreover, fascinating university buildings, a vast number of international students studying in this university and conditions provided to them, suitable location, sport center – especially swimming pool and tennis court and extensive library (herein, I do have to mention that library of the Wills Memorial is my most favourite place of the University) are other things that I enjoy.
As a city, Bristol is a 'big' small city. It remembers me our country wherein it is a mixture of history and modernity. The words that I will use to simply describe Bristol are rainy weather but at the same time always shining sun, fresh air, green parks, singing birds, welcoming and always smiling citizens, balloons, live music and Clifton with its relaxing and astonishing nature.
Considering the high qualified educational system; very enthusiastic and inspirational professors, particularly and in general, helpful staff of the university, a wide range of social activities that one can enjoy during his/her student life, welcoming environment and beauty of city, I can highly recommend University of Bristol.
---
Ilkin Hajiyev - MSc Public Policy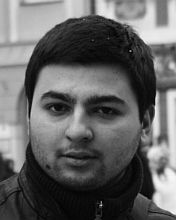 I found out about the University of Bristol online. Then I met some friends in my city who had done their bachelor and master's degrees at Bristol. They also encouraged me to apply and to study here.
The University of Bristol is very well established and has strong educational traditions in social policy studies. Educational background was very important for me to make my choice. On the other hand the high ranking of the university at European and International levels also had a big impact on my choice.
I am studying a Master's in Public Policy course because I see my future career in this direction. I would love to serve my country as a well-educated, open-minded and honest public servant. I enjoy my course because of the professors, the other students on the course and the educational teaching methods. At the moment we have finished our second term. I feel that I have really improved my analyzing, researching, learning and effective reading skills.
My accommodation hall is Woodland Court. This is a very fancy place with lots of fun, interesting people, good service and a very advantageous location close to the academic department and the city centre.
My favorite places in Bristol depend on the season. For instance, during the essay periods I spend a lot of time in the library and computer centers. In general, I love Brandon Hill park. Bristol is a nice city. It is impossible to get bored in this city. For me Bristol is a big small city which offers you perfect education, entertainment, festivals and parties. In other words, all you need for you student life.