Understanding medical images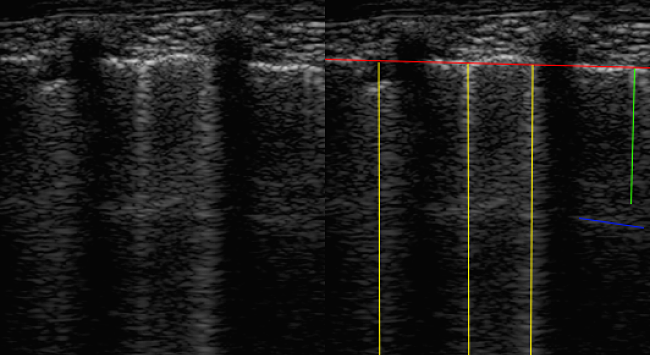 Children receiving dialysis need to have their optimal target weight evaluated very accurately but this is an extremely difficult task because of the lack of reliable means of assessing total body fluid status.
Clinical studies have determined that for adult patients, a sensitive measure of fluid overload can be obtained through the use of lung ultrasonography to identify types of vertical lines in the image, whose number can be related to the amount of fluid that surrounds the tissue cells of patients. Automatically quantifying the number and type of these so-called B-lines using computer assisted techniques remains a significant challenge.
In order to address this challenge, BVI researchers Alin Achim and Pui Anantrasirichai, in collaboration with Wesley Hayes at Great Ormond Street Hospital and Marco Allinovi at the Meyer Children Hospital, Florence, Italy, have developed advanced methods for enhancing ultrasound image quality and for information extraction. By exploiting sparse approaches to image representations, coupled with state-of-the-art optimisation techniques they have developed sophisticated line detection techniques which differentiate B-lines from other types of line artefacts occurring in lung ultrasound images.

This work, supported by the Wellcome Trust, enables clinicians to accurately determine the appropriate amount of liquid to be removed from children under dialysis.