Taught programmes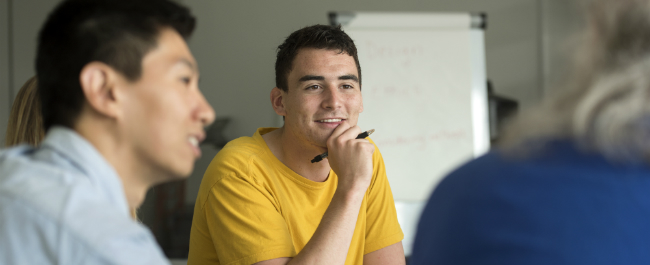 A taught postgraduate degree gives you the opportunity to expand on your undergraduate interests or branch out into a completely different field. It can help you specialise in a particular area, leading to further study at doctorate level, or many choose to study for a taught postgraduate qualification as a way of improving career prospects.
What we offer
Most taught programmes at Bristol lead to a master's qualification (eg MA, MSc, MEd, LLM), which combines taught units with a research project.
These programmes typically last one year full-time or two years part-time. In some subject areas, you will be able to study for a postgraduate diploma or certificate.
Several of our programmes provide flexible unit choices within the curriculum, opening up a range of topics and giving you a broad view of your subject.
A stimulating environment
With almost 5,000 taught postgraduate students from more than 100 countries, Bristol offers you a vibrant atmosphere in which to learn, build networks and discover your full potential.
Our success in the Research Excellence Framework demonstrates the quality of cutting-edge research at Bristol, meaning our teaching staff can share knowledge and experience from the forefront of their subject areas.
Professional development
Many of our taught programmes are designed for experienced professionals to support career development.
These include an MSc in Teaching and Learning for Health Professionals, a range of MSc Education options for teachers in all curriculum areas and settings, and the MSc in Strategy, Change and Leadership, which will be of interest to business leaders.
These programmes often provide flexible part-time study options, which means you can gain a qualification while continuing in full-time employment.
All our programmes will help you develop a broad range of transferable skills. There will also be learning opportunities that prepare you for your future career.
Whatever you study, you can be sure that the qualification you gain represents genuine academic achievement and that its value will be recognised around the world.
Global opportunities
Some of our postgraduate taught programmes offer the opportunity for field trips or research study abroad, such as the MSc Earthquake Engineering and Infrastructure Resilience or MSc Global Wildlife Health and Conservation.
Making your choice
If you would like to explore your options in greater depth, visit our online programme finder for a detailed summary of all programmes we offer, or browse the programme catalogue for a full course structure and unit list, including topics covered, assessment methods and reading lists.
Part-time programmes
Many of our programmes are available to study part-time. Check the prospectus details to see if part-time study is available.
If you are an international student, you will need to check your visa requirements; student visas are not generally issued for part-time study in the UK.