View all news
New festival to support survivors of childhood sexual abuse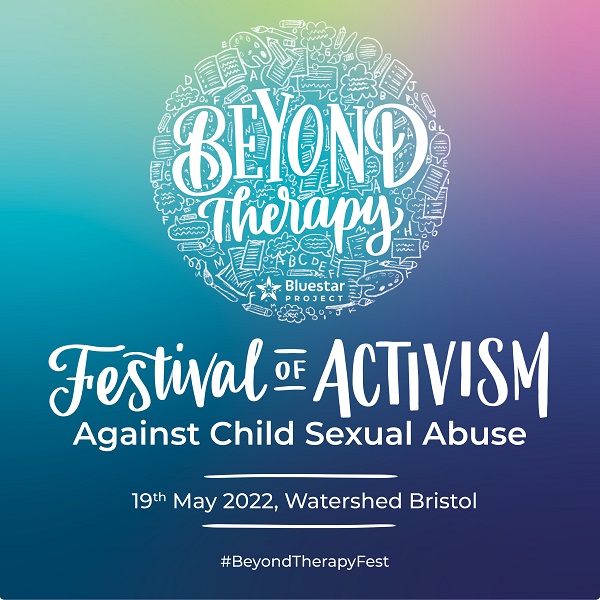 Press release issued: 13 May 2022
Childhood sexual abuse (CSA) affects half a million children and young people every year. In Bristol alone, it is estimated that 13,000 children and young people are currently living with experiences of sexual abuse. In the first event of its kind, University of Bristol researchers and The Green House, Bristol's only specialist provider of therapeutic support, are collaborating to stage a Festival to support survivors. The Beyond Therapy Festival of Activism Against Child Sexual Abuse will be held on Thursday 19 May at the Watershed.
Across Avon and Somerset, waiting lists for specialist children's therapeutic support are currently around two and a half years, whilst prosecutions for rape and sexual assault hit an all-time low in the UK last year.
Dr Gemma Halliwell, a Research Fellow at the Centre for Academic Primary Care, University of Bristol, explains why support is so important for survivors: "Children and young people who experience sexual abuse face multiple barriers to accessing the essential care services they require. The abuse continues to be hidden and taboo and very often the only place survivors are offered to talk about abuse is in an individual therapy space or when asked to talk to the police. Victims often feel alone and have no one available for them to talk to. We urgently need to address how we can improve access to care for children and families, to go beyond providing therapies and a police report – to re-consider as a community what it means to rebuild a life after CSA."
The day will include key aspects of what an effective community-based response to CSA should look like, such as: trauma-informed yoga or body-focused therapies, creative workshops, a range of research presentations, panel discussions and performances with music with Paraorchestra's Charles Hazlewood, featuring Portishead's Adrian Utley, Ondes Martinot Virtuoso Josh Semans, and Jason Yarde. We have partnered with Viv Gordon Company to commission six CSA survivor artists to make bespoke artworks for the festival.
This is the first time that arts commissions have been specifically and solely targeted at amplifying CSA survivor voices. The day will be compered by Angie Belcher, whose stand-up comedy courses can be prescribed by Bristol GPs to help trauma survivors. The festival will also premiere a short film created by Viv Gordon Company and young survivor activists from The Green House, with creations from the young survivor activists also on display.
Dr Halliwell added: "Our specialist sexual violence mental health services are overwhelmed and under-resourced and the criminal justice process often re-traumatises survivors. When survivors do report to the police, they are told they cannot access therapy because it may damage the criminal case. We hope that the Beyond Therapy movement, will help people recognise that something in our society's response to childhood sexual abuse urgently must change."
The movement has been born out of the Bluestar Project - the Green House's Home Office Funded research study, which was conducted in partnership with the University of Bristol, Safelives and the Sexual Violence Consortium. The Bluestar Project founded the Beyond Therapy podcast and Festival of Activism against CSA - it aims to re-imagine our society's existing response to CSA through the lens of social justice and the creative arts, drawing on the research findings.
The Beyond Therapy Festival of Activism Against Child Sexual Abuse takes place on Thursday 19 May at Bristol's Watershed.
Tickets from Eventbrite.
Beyond Therapy Podcast: Beyond Therapy • A podcast on Anchor
Follow The Green House on Twitter: https://twitter.com/GreenHseBristol
Further information
Beyond Therapy has been created by the team behind the Bluestar Project and The Green House, who provide specialist support to survivors of childhood sexual abuse, as well as improving access to research on the subject.
The Bluestar Project is a partnership between University of Bristol, SafeLives and the Sexual Violence Consortium, which has shown that nationally, survivors of CSA face multiple barriers to accessing support from therapy services or the criminal justice system.
The Bluestar Project was funded by the Home Office's Childhood Sexual Abuse Support Services Fund, the national funding that's dedicated to delivering the Gov.'s Tacking CSA Strategy.
About the Centre for Academic Primary Care
The Centre for Academic Primary Care (CAPC) at the University of Bristol is a leading centre for primary care research in the UK, one of nine forming the NIHR School for Primary Care Research. It sits within Bristol Medical School, an internationally recognised centre of excellence for population health research and teaching.
Follow us on Twitter: @capcbristol