View all news
Call for effective regulation of blood testing companies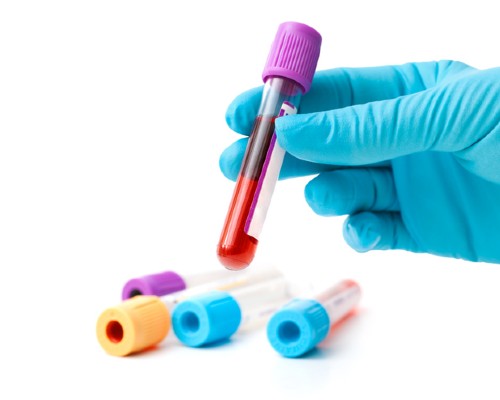 27 October 2022
Clinical academics at the University of Bristol have called for the effective regulation of private companies who sell blood tests directly to patients.
In an article published in the British Medical Journal (BMJ), co-authors Dr Jessica Watson and Professor Chris Salisbury from the University of Bristol's Centre for Academic Primary Care, warn against "pick and mix" blood testing and advise that if someone has a health concern, they should seek advice from their GP.
Currently in the UK, there is regulation to prevent advertising prescription-only medicines direct to consumers, but no regulation for medical tests. This despite the risks to patient safety, particularly from false positive or false negative test results.
"A false negative", said Dr Watson, "may lead to false reassurance that all is well, while a false positive may lead to unnecessary worry or costly follow-up tests.
"Blood tests are much better done under medical supervision. Your GP will take your medical history and other circumstances into account before choosing a test and will be able to help interpret the test results. If you do choose to buy a test privately to screen for a particular illness, then we advise only buying those recommended by the NHS."
The article also highlights the negative impact on stretched NHS resources, with patients often asking GPs to review the results of blood tests they have bought privately.
"These may be of uncertain quality, and liable to give false positive results, with follow-up consuming GPs' and NHS laboratory time", the authors say. "Unless clear regulation is undertaken, we predict more poor quality, overhyped testing with harms to individuals and unnecessary costs for the NHS."
Read the article: Why blood testing companies need effective regulation by Margaret McCartney, Jessica Watson, Brian Finney and Chris Salisbury. Published in the BMJ, 26 October 2022.
Linked article: The rise of direct-to-consumer testing: is the NHS paying the price?
Read the University of Bristol media release: Concern over unregulated high street health checks that may be putting extra pressure on the NHS
Further information
About the Centre for Academic Primary Care
The Centre for Academic Primary Care (CAPC) at the University of Bristol is a leading centre for primary care research in the UK, one of nine forming the NIHR School for Primary Care Research. It sits within Bristol Medical School, an internationally recognised centre of excellence for population health research and teaching.
Follow us on Twitter: @capcbristol