View all news
Bristol & South Gloucestershire IRIS Partnership win the Voscur Partnership Award at the 2020 Voscurs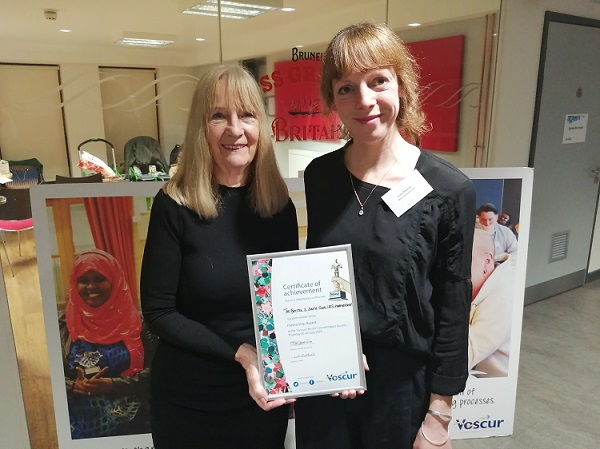 31 January 2020
Last night (Thursday 30 January) IRISi had the honour of attending the Voscurs and accepting the Partnership Award for the Bristol & South Gloucestershire IRIS Partnership.
The partnership is made up of a consortium of three organisations, IRISi, Next Link, (a regional provider of domestic violence and abuse support and host of IRIS services in Bristol and South Gloucestershire) and the the Centre for Academic Primary Care (CAPC) at the University of Bristol. Each partner works and continues to work, both individually and together, to develop and enhance health-based responses to domestic violence and abuse.
Voscur is the support and development agency for Bristol's Voluntary, Community and Social Enterprise (VCSE) sector. The 'Voscurs' are the Bristol agency's annual social impact awards. The Partnership Award recognises excellence in partnership working and celebrates collaborative leadership.
"We are delighted to be awarded the Voscur partnership award" said Lucy Downes, project lead on Social Franchising for IRISi, who accepted the award on behalf of the partnership. "By working together, CAPC, Next Link Domestic Abuse Services and IRISi have ensured that the IRIS Programme has developed from promising research into a real life intervention that improves clinical practice and changes the lives of thousands of victims and survivors of domestic abuse. We are now preparing to scale up the spread of the IRIS programme so that more clinicians and patients can benefit from this innovative and effective intervention."
Gene Feder, a GP and Professor of Primary Care at CAPC, said: The Centre for Academic Primary Care is proud to be part of the partnership that won this award. Our research collaboration with IRISi and Next Link is the basis of our ongoing research on improving the healthcare response to domestic violence and the lives of survivors and their children."
The IRIS programme began as a two-site research trial in 2007. It aimed to determine whether a training programme in general practice coupled with a simple referral route to a specialist in a DVA organisation improved clinical practice and identification of patients affected by domestic violence and abuse, and so improved support for patients. Bristol was one of the research sites which is how the University of Bristol and Next Link came to be involved.
The research and IRIS programme were focused on partnership work from the outset. Staff in both organisations co-created and developed the IRIS programme, working together on the research for three years including at a strategic and programme planning, operational and delivery level. Bristol was the first area to commission the IRIS programme at the end of 2010. The national IRIS project developed from this work and was based at Next Link until 2017 when IRISi was established as a standalone organisation.
To date, general practice teams in 49 surgeries in Bristol have been trained and are now IRIS Domestic Violence and Abuse (DVA) Aware Practices. The programme began in South Gloucestershire in 2013 and general practice teams in 28 surgeries have been trained. All patients in these practices have access to the IRIS service and support. In Bristol, 1,124 women have been directly supported through the local IRIS programme and in South Gloucestershire, 562 women have been directly supported.
"There has been a historical gap between health and the specialist third sector working together in the field of DVA, and a lack of joined up work between academia and frontline services meaning that research hasn't been put into practice or made a difference in "the real world" said Medina Johnson, CEO of IRISi. "Our partnership work has bridged the gap and joined the dots. We have sometimes struggled and felt like we were speaking different languages, but knew that our end goals were the same and so found a common language. This learning informs the national work of IRISi.
"The co-creation model of IRIS in general practice is being replicated in ongoing partnership work as we know that there are benefits to specialists in different fields coming together to work on a shared goal" Medina continued. "Dissemination of our work has been possible through many and varied channels given that each partner has distinct and complimentary networks."
For more information on the IRIS programme visit the IRISi website www.irisi.org.
Further information
About the Centre for Academic Primary Care, University of Bristol
The Centre for Academic Primary Care (CAPC) at the University of Bristol is a leading centre for primary care research in the UK, one of nine forming the NIHR School for Primary Care Research. It sits within Bristol Medical School, an internationally recognised centre of excellence for population health research and teaching. Follow us on Twitter: @capcbristol.
For more information about domestic violence research at the Centre for Academic Primary Care, see our Domestic and Sexual Violence and Abuse research page.