View all news
Tough Mudders in Particle Physics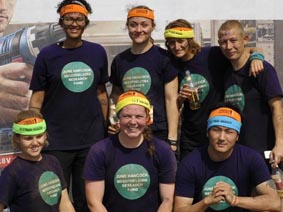 28 August 2015
Particle Physics PhD students are Tough Mudders. The Tough Mudder is a 10-12 mile extreme obstacle course designed by the British Special Forces. On Saturday 22 August, three Bristol Particle Physics PhD students, Eugenia Price, Nicole Skidmore and Sophie Richards as well as recent PhD graduate David Voong, completed Tough Mudder with team mates Beki Price, Siphiwe Manda and Emma Runesson.
Just some of the obstacles encountered: the team were dunked into an ice bath, crawled through an enclosed chamber filled with tear gas, ran up (and got over) a quarter pipe and completed 20 other obstacles, as well as running the 11 mile course.
The team took on the challenge to raise money for the June Hancock Mesothelioma Research Fund and the Roy Castle Lung Cancer Foundation.
Lung Cancer is the biggest cancer killer in the UK and severely underfunded compared to other cancers. Over 40,000 cases of Lung Cancer are diagnosed in the UK each year, 1 in 7 have never smoked. The Roy Castle Lung Cancer Foundation is the only charity dedicated to lung cancer in the UK.
The money raised for the June Hancock Mesothelioma Research Fund is in memory of Gillian Price, mother of Eugenia and Beki, who lost her life to Mesothelioma in 2012 at the age of 62, just 5 months after diagnosis. Mesothelioma is a relatively rare and aggressive form of cancer with a poor prognosis that affects the membrane surrounding the lungs. Mesothelioma is preventable as the only known cause is exposure to asbestos, but the only way to help those already exposed is to fund research into the treatment of the disease. The June Hancock Mesothelioma Research Fund is the UKs first and largest independent mesothelioma charity.