View all news
School of Physics newsletter June 2015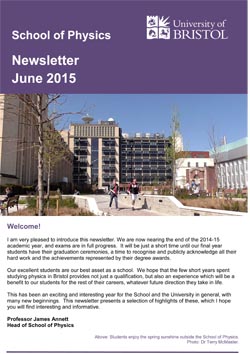 3 June 2015
As we near the end of the academic year, we look forward to celebrating the successes of our students.
It will be just a short time until our final year students' graduation ceremonies, a time to recognise and publicly acknowledge all their hard work and the achievements represented by their degree awards.
Our students are our best asset as a school. We hope that their time spent studying physics which will be of benefit to our students for the rest of their lives, whatever their future direction.
This has been an exciting year for the School, with many new beginnings. We hope you enjoy reading about just a few of them here.