View all news
Quantum Communications Hub Launch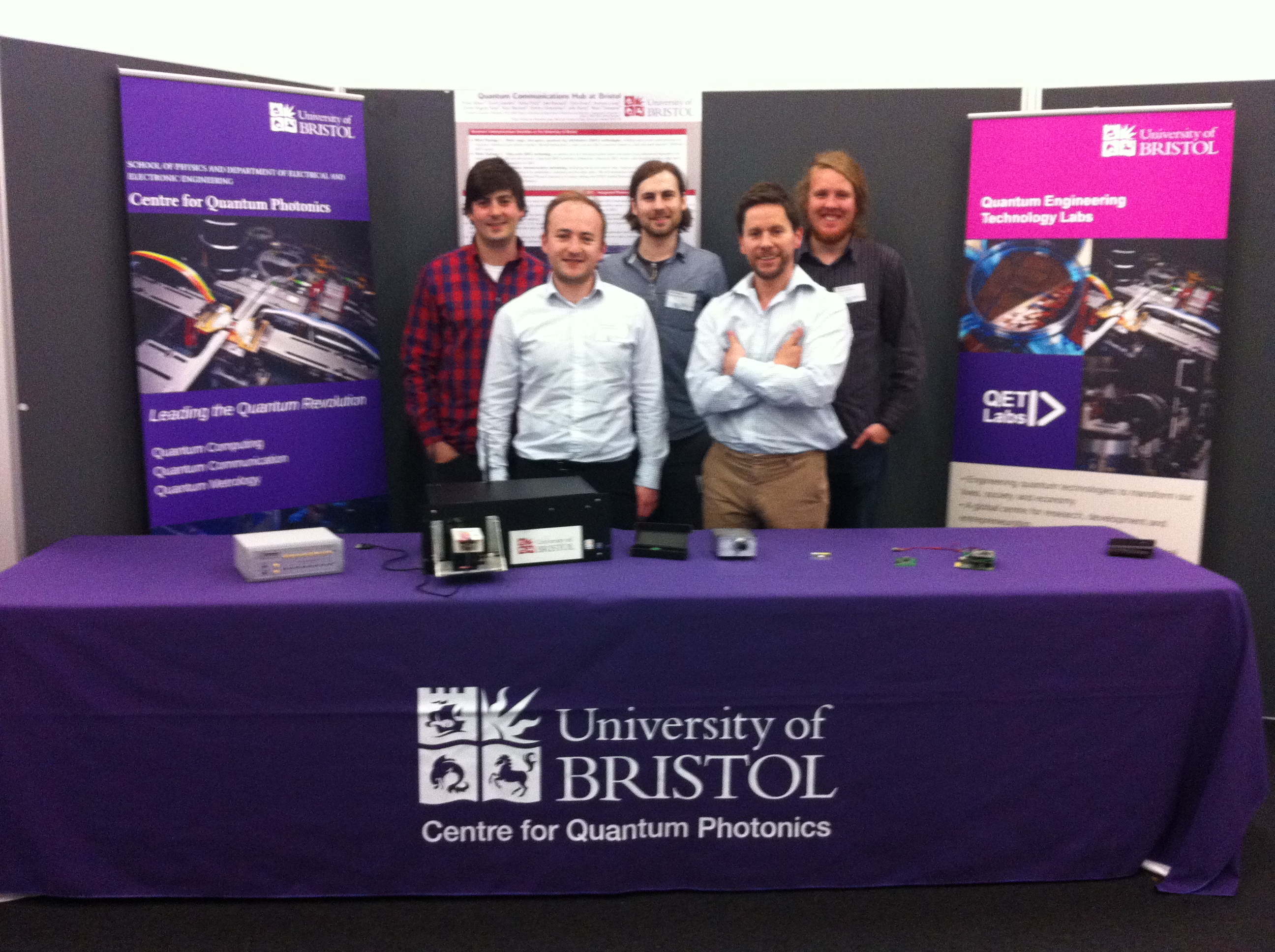 10 April 2015
Members of the Centre for Quantum Photonics attended the Quantum Communications Hub launch event at the Ron Cooke Hub building at the University of York on 4th June.
Over 100 people attended the launch event, including academics from the numerous Universities involved in Quantum Communications Hub as well as representatives from various industry partners. During the day, scientific demonstrations were provided by researchers from the Centre for Quantum Photonics at Bristol, as well as from DVA Optical Networking Ltd and Toshiba Research Europe Ltd.
Dr Mark Thompson, Professor John Rarity, Dr Anthony Laing and Dr Chris Erven from the Centre for Quantum Photonics together with Professor Dimitra Simeonidou and Dr Reza Nejabati from the High Performance Networks group are all co-investigators on the Quantum Communications Hub, making the University of Bristol a major partner. The Quantum Communications Hub is led by the University of York and also includes the Universities of Cambridge, Heriot-Watt, Leeds, Royal Holloway, Sheffield and Strathclyde.
Demonstrations of quantum communication systems have existed for a number of years, but with limited capabilities that have prevented large scale commercialisation. The vision of this Hub is to develop new quantum communication technologies that will overcome these limitations, and deliver commercial-ready technologies whilst continuing to research and develop new ideas and protocols as a pipeline for later commercial exploitation.
Developments will include:
Short-range, free space quantum key distribution (QKD) technologies
Chip-scale QKD technology to enable future widespread deployment and application of QKD
A UK Quantum Network, demonstrating real world communications at the metro-scale and inter-city scales.
The Quantum Communications Hub is one of four UK Quantum Technology Hubs funded by the Engineering and Physical Sciences Research Council (EPSRC).
Further details can be found on the Quantum Communications Hub website: