View all news
CQP Student wins best talk at the Physics Postgraduate Conference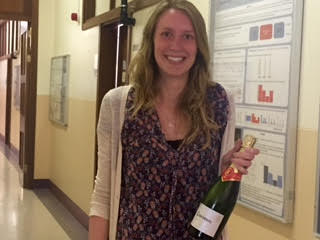 16 June 2015
This years Postgraduate Research Conference was held on the 16th June in Mott Lecture Theatre.
As part of the conference the attendees were asked to vote for the best talk. We are pleased to announce that this was won by Beccie Whittaker of the Centre for Quantum Photonics for her talk on "Quantum-Enhanced Absorption Spectroscopy."
Beccie is no stranger to winning awards for her work as she was peviously the winner of the British Science Fesitval's competition for her work on Metrology; where audiences deemed it to be the area with the biggest scope for developments in science within the next few years.
Over the past few months Beccie has been involved in several papers including the recent Optica Paper on "Quantum-enhanced tomography of unitary processes" . She holds an MSci in Chemical Physics from UoB and is president of the local OSA student chapter: the Bristol Optical Student Society.
Congratulations Beccie!