View all news
School of Physics Newsletter, November 2015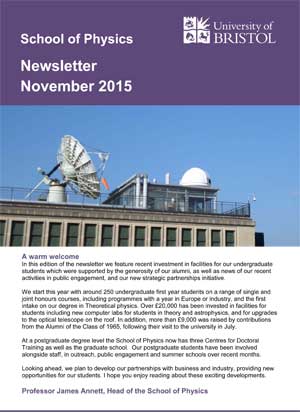 27 October 2015
Recent investment in facilities for our undergraduate students were supported by the generosity of our alumni. Read about these, and how philanthropic support for the work of postgraduate students is resulting in innovative science.
Over £20,000 has been invested in facilities for students including new computer labs for students in theory and astrophysics, and for upgrades to the optical telescope on the roof. In addition, more than £9,000 was raised by contributions from the Alumni of the Class of 1965, following their visit to the university in July.
At postgraduate degree level the School of Physics now has three Centres for Doctoral Training as well as the graduate school. Our postgraduate students have been involved alongside staff, in outreach, public engagement and summer schools over recent months.
Looking ahead, we plan to develop our strategic partnerships, providing even more real-world opportunities for our students, and great benefits for business and industry.
We hope you enjoy reading about these exciting developments in the School of Physics Newsletter November 2015 (PDF, 852kB).