View all news
Focus on international students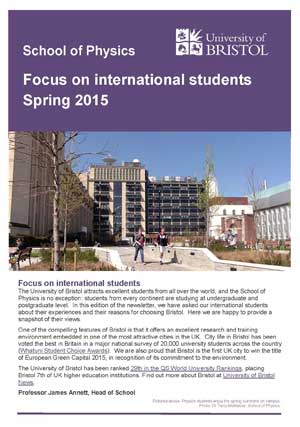 8 May 2015
The University of Bristol attracts excellent students from all over the world, and the School of Physics is no exception: students from every continent are studying at undergraduate and postgraduate level.
For this edition of the newsletter, we asked a few of our international students about their experiences and their reasons for choosing Bristol.
Mincy Naduthottathil from India tells us about the warm welcome she received on her first days in Bristol, surrounded by historic buildings, and the excitement of her PhD at the Bristol Centre for Functional Nanomaterials.
Jianwei Wang, a PhD student in the Bristol Centre for Quantum Photonics, is working on developing integrated photonic devices, while Poemwai Chainakun talks of the challenges of research into supermassive black holes as a PhD in the Astrophysics group.
As Xing Chen Chen, an undergraduate student, says, Bristol is a city with a mixture of cultures - an opportunity for our students to make international friends.
Take a look at the Focus on international students (PDF, 851kB) for an insight into what it is like to study physics at Bristol.