View all news
Incomplete Airy beams - a prizewinning paper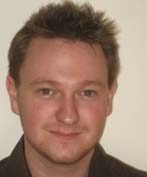 17 December 2013
Dr James Ring has been awarded the 2013 Graduate School Paper Prize.
Dr James Ring
This year's winner of the annual School of Physics Graduate School Paper Prize is Dr James Ring of the Theoretical Physicsresearch group.
James was awarded the prize for his paper 'Incomplete Airy beams: finite energy from a sharp spectral cutoff', J D Ring, C J Howls and M R Dennis, Optics Letters 38 1639-41 (2013).
James completed his PhD this year and is now a trainee Patent Attorney.