View all news
University friends create new nutrient-packed cereal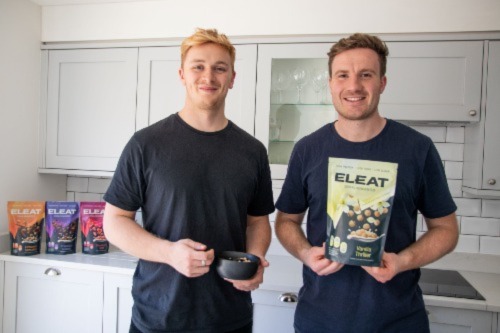 Press release issued: 12 July 2022
Two university sportsmen created their own healthy cereal after they became fed up with the sugar-packed and nutrient-poor options on the market.
ELEAT's cereal is high in protein and fibre, including gut friendly prebiotics, and is low in sugar. It is also vegan friendly and gluten free.
The cereal will be delivered to customers on a subscription model in two packaging options: a large 250g pouch – which unlike competitors is resealable – and a 50g single-serve pack, which is useful for stowing in a work or gym bag.
Close friends Hywel Rose and Hugh Hamilton-Green hit upon the idea while studying at the University of Bristol, where they trained together several times a week.
The pair's early product development saw them turn their student kitchen into a food laboratory and use a cement mixer to make an early prototype of the cereal.
Now, after twelve months of industrial trials, the team have begun manufacturing ELEAT cereal and are now sending orders out to the more than 1,000 people who signed up for pre-launch access.
Hywel said: "With lunch and dinner it's easier to hit the right nutritional macros, but breakfast is the most time poor meal and we often slack on our nutrition.
"We wanted a cereal that was packed full of nutrition, including protein and fibre, to fuel a healthy and active lifestyle."
ELEAT'S first batch of four flavours are: Chocolate Triumph, Cinnamon Sensation, Strawberry Blitz and Vanilla Thriller. The pair's subscription model allows customers to tailor their flavour and quantity needs.
Over the coming year they plan to upscale ELEAT: increasing subscribers and breaking into supermarket stores, as they build towards an equity raise in 6 months.
They plan to quickly diversify their product portfolio and have already conducted product development trials with other types of food and drink.
Hugh and Hywel will be boosted on their journey by Government legislation restricting the promotion of unhealthy cereals.
Hugh said: "We want to innovate and disrupt the market. At the moment, the US is five years ahead of us, especially on things like functional health and the importance of gut health and fibre.
"At the moment the emphasis in the UK is all on protein and sugar. However, we plan to become an all-encompassing health and wellbeing brand that's known for nutritionally balanced products."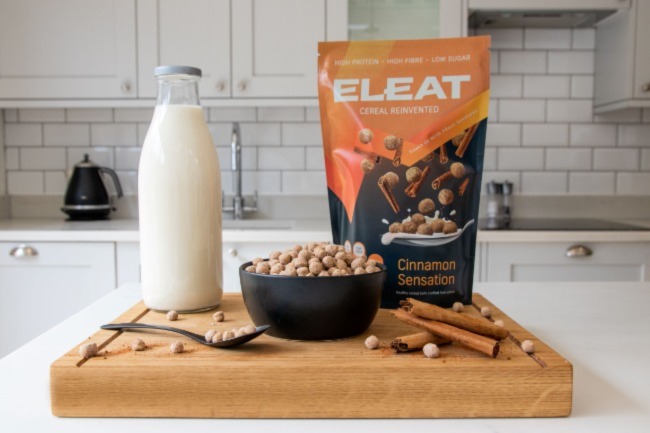 ELEAT cereal, Cinnamon Sensation flavour
Hugh and Hywel's journey began at the University of Bristol. Hugh studied for an Economics and Management undergraduate and a Computer Science master's.
Hywel studied for an Economics and Politics undergraduate before joining the University's Centre for Innovation and Entrepreneurship for his master's.
It was during their master's year that the two housemates began writing ELEAT's business plan.
Hugh said: "We spent months playing with plant-based proteins and gut friendly fibres in our kitchen. We thought it would be easy but quickly realised our student house wouldn't suffice to make our desired cereal!"
The pair completed their studies while training five times a week for the University rugby first team. Hywel captained the team, with the pair playing alongside each other in the back row in a squad that reached the BUCS super rugby play offs.
They also won start-up funding and received mentoring from the University of Bristol's Careers Service, and were also successful in the University's Runway Awards.
This week, Hugh and Hywel are not only unveiling their cereal to the world, but also both graduating from the University.
Professor Sarah Purdy, Pro Vice-Chancellor for Student Experience at the University of Bristol and a GP, said: "In a busy world with a surfeit of choice, getting our diets right is harder than ever.
"Hywel and Hugh have shown impressive insight and acumen in creating a product that can make a healthy start to the day a little bit easier."