View all news
Student recovering well after confirmed case of meningitis at the University of Bristol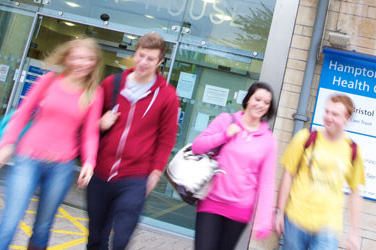 Press release issued: 12 October 2017
We're working closely with Public Health England (PHE) following the confirmed diagnosis of bacterial meningitis (Meningococcal B) in one of our students yesterday.
The student has been receiving treatment in hospital and is recovering well. We're told that their discharge from hospital is being arranged and they will be returning to their family home to continue recovery.
Meningococcal bacteria are carried in the back of the throat of about one in ten people at any one time, but only very rarely cause illness.
Most people who carry the bacteria become immune to them. The bacteria do not spread easily and only those who have had close prolonged contact with the person, normally family members, or those sharing the same accommodation (such as a shared kitchen/bathroom) are at a slightly greater risk of getting ill.
As such PHE, who take the lead in cases such as this, have written to those students who live in close proximity to the student and, in conjunction with the University's Students' Health Services, they will be offered an antibiotic as a precautionary measure.
Other people in the wider university setting are not considered to be at increased risk of developing meningococcal disease so there is currently no need to take any specific action or change the university routine for students and staff.
More information about Meningitis and the symptoms can be found on the NHS Choices website or from the Meningitis Research Foundation.
We would urge any students who are unwell and recognise any of the symptoms described on these websites to contact their doctor urgently or call NHS 111.
The University holds the Meningitis Awareness Recognition Mark (MARM) from leading charity Meningitis Now. This award is given to institutions who have shown an understanding of this complex disease, who promote vaccination, help students and staff understand the symptoms and signs, and have shown that they are prepared to work with external experts if a member of the University community is ill.
Further information