View all news
Publication: 'Regulating the Sea' by Professor Margherita Pieraccini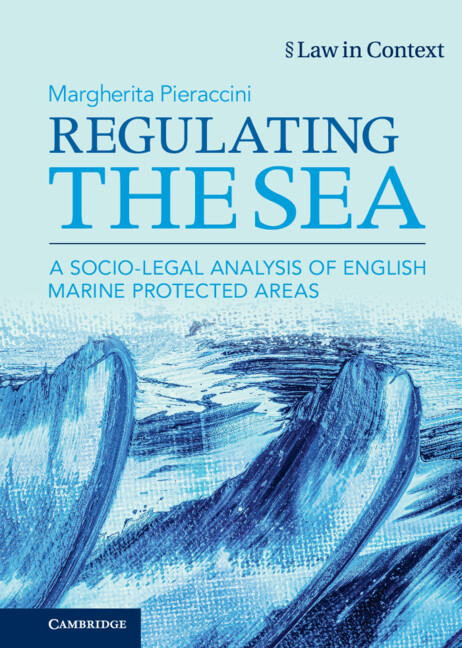 Press release issued: 7 August 2023
Cambridge University Press has published a new monograph by the Law School's Professor Margherita Pieraccini. 'Regulating the Sea' (Cambridge University Press, 2022), the first book written on English marine conservation regulation from a socio-legal perspective, provides an in-depth analysis of key aspects of Marine Protected Areas regulation in England, offering access to an under-investigated field.
'Regulating the Sea' (Cambridge University Press, 2022) by Professor Margherita Pieraccini forges connections between environmental law and regulatory scholarships on the one hand and human geography, environmental sociology and other environmental social sciences on the other.
The monograph provides an introduction to the field of English marine conservation regulation, mapping out all key legal and regulatory developments, and offering critical reflections on current legal and regulatory structures.
The book's regulatory mapping is complemented by the interdisciplinary treatment of the subject, exploring the relationship between people and marine parks through central themes in environmental social sciences and regulatory theory, namely space, rationalisation, democracy and adaptation.
In navigating English marine conservation law following a thematic sociolegal analysis, the book builds a bridge between environmental law and environmental social sciences scholarship, reflecting on key debates on nature and society and environmental decision-making, and showing the usefulness of the language of the commons for the forging of key analytical categories.
This work will be of interest to environmental lawyers and regulatory scholars, and to human geographers, environmental sociologists and political scientists - as well as containing valuable insights for policymakers and regulators.
"Biodiversity loss is one of the biggest challenges of our time. In the marine environment, marine protected areas can help the conservation of biodiversity, but they present many regulatory challenges. This book, employing the language of the commons, provides a critical analysis of English marine protected areas regulation." - Professor Margherita Pieraccini
Find out more about the publication on the Cambridge University Press website.
Book Launch:
The University of Bristol Law School's new Centre for Environmental Law and Sustainability (more information coming soon) and the Sant'Anna School of Advanced Studies are pleased to co-host a hybrid event on marine conservation governance.
The event will take place from
2-4 pm UK time on 21 September 2023
,
online via Zoom and in-person in the Lady Hale Moot Court
(8-10 Berkeley Square) at the University of Bristol Law School.
Professor Margherita Pieraccini
will provide an introduction to her monograph 'Regulating the Sea' (Cambridge University Press, 2022), followed by presentations from discussants (speakers to be announced soon).
Tea, coffee and cake will follow the talks.
Further information
Professor Margherita Pieraccini is Professor of Law at the University of Bristol. She has been researching in the field of environmental law and socio-legal studies for over ten years, focussing on protected areas and commons in the UK and Italy. Her work crosses the boundaries between law and environmental social sciences, exploring environmental law and justice, sustainability, marine conservation and the governance of the commons.