View all news
Law Clinic: An experience beyond justice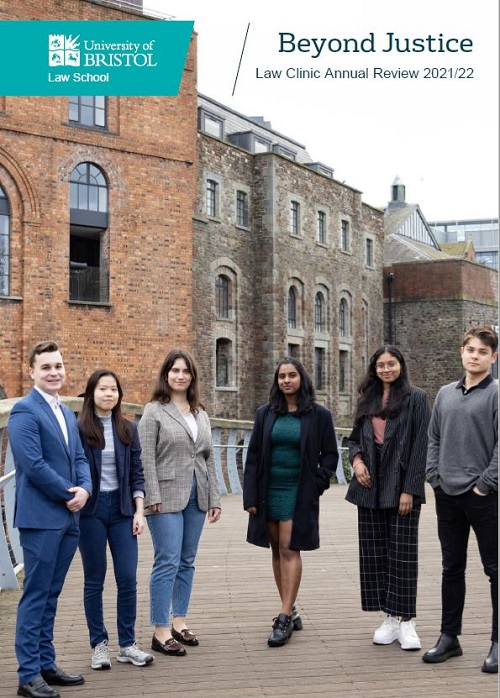 Press release issued: 7 June 2022
Launched to mark the end of National Volunteers Week 2022 (1-7 June), the Law Clinic's latest annual review highlights how its projects support some of Bristol's most vulnerable communities gain access to justice – and how, for student volunteers, this means a deeper understanding of societal issues that paves the way for meaningful careers.
This year's Law Clinic Annual Review, 'Beyond Justice', reflects the remarkable impact the Law Clinic has on both the student volunteers and the people they help navigate through what is often a daunting legal process to seek the justice they deserve.
In the past 18 months the team has delivered new services, deepened and extended relationships with partners in the city and beyond, and taken on more than 300 cases. Throughout the year the impact of COVID-19 has continued to affect the way the Clinic's service is provided but not its accessibility or availability, with client contact conducted remotely, enabling assistance to some clients who lived outside the Bristol postcode area.
Of note is the support Law Clinic students are providing rising numbers of clients who have not been able to find help elsewhere – such as taking referrals from Citizens Advice and other agencies, working with rather than in competition with them. This year also saw Omar Madhloom, Law Clinic Academic Lead, reinforce links with both agencies and local law firms when he joined the Bristol Committee for Pro Bono work in the city.
The 2021/22 review highlights how the Clinic's Family Law Team took on many more cases this year. Supervised by Sumayyah Malna, lecturer in law and solicitor at the Law Clinic, the team introduced a new drop-in service for victims of domestic abuse and laid foundations for future work with care leavers.
"The case I worked on really highlighted how important the work of every single student and member of staff in the Clinic is. Whilst it is a wonderful learning opportunity for us as students, our work is often the only hope for clients that come to the Clinic to achieve justice and that makes a real difference." Cora Danieli (LLB 2020), member of the Law Clinic Family Law Team.
Also featured is the establishment of a new summer internship for one of the Clinic's Black students. The internship, sponsored by law firm Burges Salmon, was part of their anti-racism work to address the chronic underrepresentation of Black talent in the legal sector. The successful student, Ibukun Badmus, spent six weeks at the Law Clinic undertaking pro bono work and undertook two weeks of paid experience at Burges Salmon. Since graduating, Ibukun has been offered a training contract at Clifford Chance.
"This experience has equipped me with greater insight on what it would be like to work in a commercial law firm, including practically undertaking day to day tasks. I am grateful to my supervisor, Sumayyah, and the University of Bristol for enabling this collaboration, as it has undoubtedly given me greater confidence to embark on my legal career." Ibukun Badmus (LLB 2021)
Throughout 2021/22 the Law Clinic continued to collaborate with humanitarian organisations and charities across the city - including the Bristol Drugs Project, the Wellspring Settlement, Young Lives vs Cancer, and Bristol Refugee Rights - delivering a unique programme that provides a range of social and legal services to those who most need support.
In its outreach work, students are encouraged to identify, develop and manage relationships with partners - building skills to help them positively navigate life post university. To illustrate how the experience informs the future careers of those involved this year's Annual Review showcases some of the Law Clinic's most recent alumni.
"We see the work of the Law Clinic and the Law Clinic students as contributing significantly to their development as lawyers, to access to justice, and to their development as policymakers, influencers and people who have an interest and involvement in the way that law is used and should be used." John Peake, Law Clinic Director
The Law Clinic Annual Review 2021-22: Beyond Justice is available to read now.
Further information
National Volunteers Week is an annual occasion to recognise and celebrate the valuable role volunteers play and the contribution volunteering makes in our communities.
The Law Clinic provides students with an opportunity to gain real-life experience of law, offering free legal advice and support to members of the public under the supervision of Law School staff.
During National Volunteers Week 2022 we celebrated our fantastic student volunteers each day with a blog sharing their pro bono work insights and experiences – visit the National Volunteers Week blog series on our Law School Student Employability blog and follow us on Twitter, Facebook, YouTube, LinkedIn and Instagram.