View all news
FACE 2020: Decolonisation, intellectual Pan-Africanism, and the future of the multiversity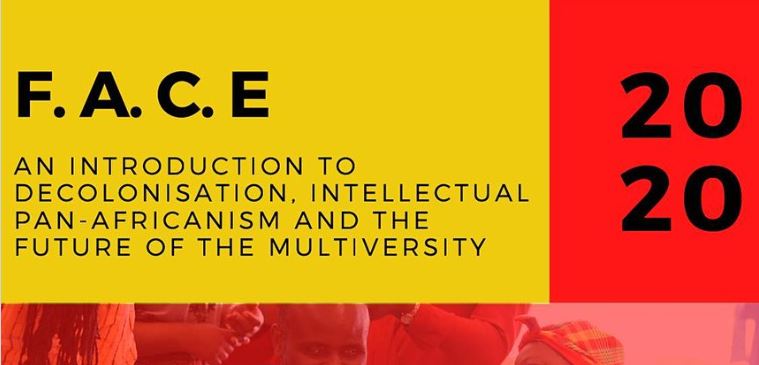 Press release issued: 16 June 2020
Forever Africa Conference and Events (FACE) is a Pan-African initiative brought together by staff and students at the University of Bristol and directed by the Law School's Dr Foluke Adebisi. This year's event, FACE 2020, will be taking place from 22 - 26 June as a series of virtual midday talks.
Forever Africa Conference and Events (FACE) has an interdisciplinary, cross-sector, intergenerational, intercommunity, and intercontinental vision of dialogue for the purpose of bringing change through cooperation.
Its aims include establishing and strengthening Pan-African staff and student links within the university, Bristol, nationally and internationally across research and education initiatives.
A few words from Dr Foluke Adebisi on FACE:
"Forever Africa Conference and Events was set up in 2017 to respond to a lot of the stories such as those that have been told by #BlackintheIvory. FACE is based in the University of Bristol, but is made up of staff and students and non-academics beyond the university.
"Our approach is based on an understanding that mere representation will not lead to real structural change that takes into account the history of HE and its impact on Black lives in the academy and knowledge production that privileges those lives.
"We recognise that 'Pan-African' is a complex collective. But we do not shy away from that complexity. We wish to ensure that that complexity is inclusive. We also recognise our work as part of the UN International decade of People of African Descent."
FACE 2020 will build on previous conferences and reflect on the future of Pan-Africanism in the context of our lives, the university, decolonisation and knowledge.
Event programme:
Seminar 1, 22 June 2020: Vision and aims of FACE - A webinar and Q&A with Dr Foluke Adebisi.
Seminar 2, 23 June 2020: An online discussion about the outcome document from FACE2019 [copies will be available online and to delegates] - A conversation about next steps with Dr Furaha Asani, Sheila Bamugemereire and Aisha Thomas.
Seminar 3, 24 June 2020: A conversation with Professor Babatunde Fagbayibo and Dr Edson Burton on how we move forward to FACE 2021 and its themes, including the future of Pan-Africanism.
Seminar 4, 25 June 2020: An introduction to the Sankofa [Cape Town-Cairo by road] trip - in conversation with Lerato Mogoatlhe, traveller and author of 'Vagabond: Wandering through Africa on faith.'
Seminar 5, 26 June 2020: The FACE Pius Adesanmi Memorial Student Award for Outstanding Pan-Africanism - Preview of Finalists and Announcement of Award.
Details for joining and participation will be sent to registered attendees ahead of each date. Please register via Eventbrite to join.
Dress code: Pan-African.
Tickets are free, but please consider donating to one or all of the following:
Further information
Find out more about FACE 2020 on Dr Foluke Adebisi's Forever Africa website and on social media: Twitter: @_FACE2020 / Instagram: @foreverafrica2019 / Facebook: Forever Africa Conference and Events
Dr Foluke Adebisi is a Senior Lecturer inLaw at the Law School, University of Bristol. Her research, which is pedagogical as well as jurisprudential, examines what happens at the intersection of legal education, law, society and a history of changing ideas of what it means to be human.
This research places emphasis on the processes through which knowledge is produced and how this production shapes the content of our curricula, the structure of the university and the collective impact on society, especially in terms of law, both domestic and international.
Foluke is particularly interested in academic concerns that arise from ensuring equality, inclusion and diversity within our teaching practice in law. She co-designed the Law School's Law and Race unit, one of the very few of its kind within the UK.
She is the founder and Director of Forever Africa Conference and Events, and she writes about law, Africa, pedagogy and life in general at Foluke's African Skies.