View all news
Osborne Clarke host new students for annual Law Clinic training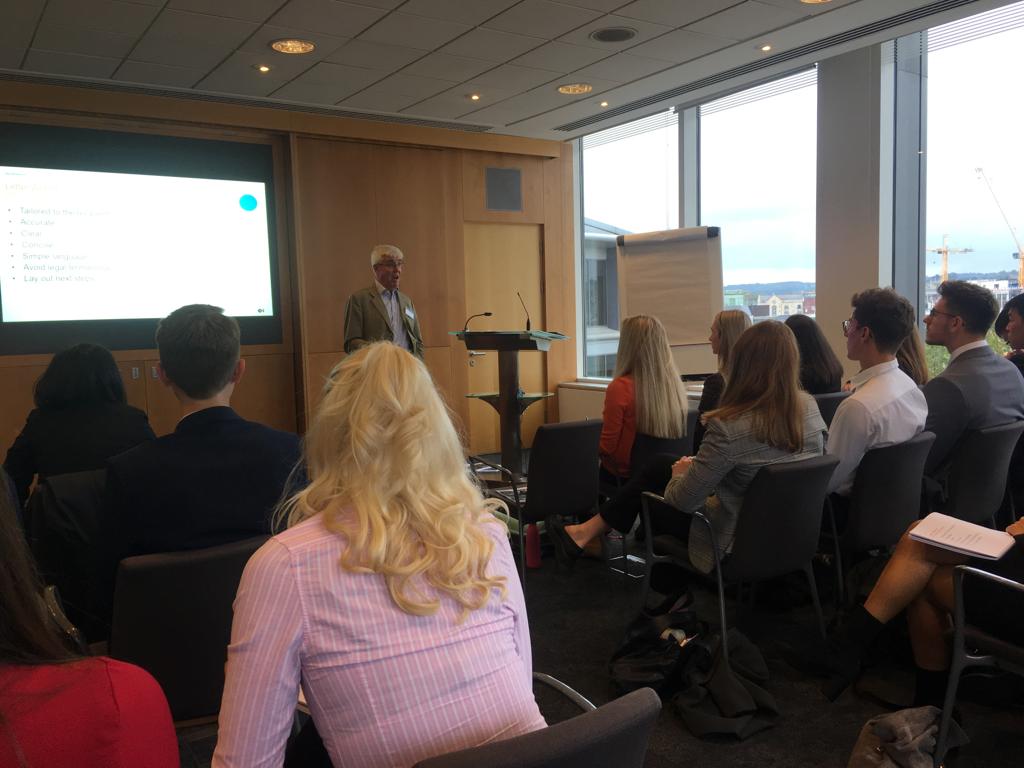 Press release issued: 18 November 2019
Law Clinic Student Director, Malavika Ramanand reports on the Law Clinic's annual training session for student advisors. Students were briefed in detail on client interviewing and letter writing.
We would like to thank Osborne Clarke, our sponsor firm, for hosting our annual training session for this academic year. This training is meant to acquaint members with the essentials of being a student adviser at the University of Bristol Law Clinic. The session also provides useful insight into Osborne Clarke and their areas of work.
The training session kicked off with two trainees giving us a quick overview of the Bristol office. By running through their personal experiences in the firm, we were briefly introduced to the culture, as well as the different departments within Osborne Clarke. We also had the privilege of getting a peek at their illustrious client list!
We were fortunate to have Julian Hemming, a partner who is the co-chair of the International Employment Law Group, and Caroline Bush, a Senior Associate in the Projects team, conduct the sessions. This ensured that our members were trained to the professional standard of an international commercial law firm.
The training sessions were divided into two parts. The first half was to familiarise students with the fundamentals of client interviewing and focused on a basic understanding of the types of clients who we may encounter while working at the Clinic; be it professional, vulnerable or angry. The students were also provided with a coherent interviewing structure that they could use when they approach client interviews at the Clinic. Once they had a fair understanding of what is expected of them, they were to participate in an exercise that allowed them to put these skills to a test. Taking turns, students were asked to play the part of clients and interviewers; after which they were given personalised feedback on the way in which they conducted these interviews.
We then moved on to the second half of the session, which was letter writing. Students were first asked to read a letter that was poorly drafted, in order to pick up on inconsistencies. After which, they were taken through a well drafted letter of advice, in order to point out the differences between the two and go over the do's and don'ts of letter writing. Julian and Caroline both provided us useful tips; including avoiding legal jargon, especially to clients who are not particularly familiar with the mechanisms of the system.
Finally, our Student Vice Director Susie Burley , outlined the procedures of the Law Clinic, while taking them through our personalised letter template. This provided a chance for students to draw a link between the information provided by Osborne Clarke and what is required of them at the Clinic.
"Attending the CCSS training was invaluable. I was encouraged to consider how to approach vulnerable clients in a sensitive and respectful way, as well as reflecting on methods to communicate information that may be difficult for my client to hear. I have no doubt that the skills I have learnt will aid me in my current case as well as in my future career."
Student Vice Director Susie Burley
The students have found the training at Osborne Clarke a necessary first step before they start to work on cases. We hope that they are keen to put the skills and tips imparted at the session to use.
Further information
The Law Clinic provides students with an opportunity to gain real-life experience of law, offering free legal advice and support to members of the public under the supervision of Law School staff.