View all news
Dr Michael Naughton shares his opinion on latest governmental inquiry into miscarriages of justice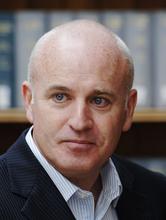 Press release issued: 13 September 2019
A new article by Dr Michael Naughton, Reader in Sociology and Law has been published by The Justice Gap entitled: 'Please forgive me, but I won't be holding my breath.'
It considers the inquiry by the All-Party Parliamentary Group on Miscarriages of Justice (APPGMJ) into the effectiveness of the Criminal Cases Review Commission (CCRC) in assisting innocent victims of wrongful convictions to have their cases referred back to the Court of Appeal.
In the article, Dr Naughton posits that those in power care little for victims of miscarriages of justice and why, after almost 20 years of working in this area, he is not confident that positive reforms that could assist the innocent to overturn their convictions will derive from yet another inquiry.
Further information
Dr Michael Naughton is a Reader in Sociology and Law across Law School and School of Sociology, Politics and International Studies (SPAIS), University of Bristol. He was the Founder and Director of Innocence Network UK (INUK) between 2004-2015 and Founder and Director of the University of Bristol Innocence Project (UoBIP) between 2005-2015.