View all news
Dr Eirik Bjorge celebrates legal first for protection of migrant rights in Norway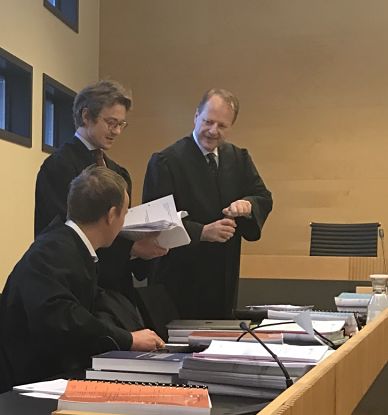 Press release issued: 15 August 2017
August marked a victory for the human rights of migrant children in Europe, and for the Law School's Dr Eirik Bjorge as the Norweigan Court of Appeal put an end to the practice of administrative detention of migrant children in Norway.
Cited by the Norwegian Broadcasting Corporation (NRK) as a landmark judgment, the decision held that immigrant detention of children at a "family centre" at Oslo Airport Gardermoen was illegal.
Four Afghan children and their parents were in 2014 held in administrative detention for three weeks, pending their removal to Kabul; they were detained in what according to the Norwegian government was a family friendly detention facility.
The Norwegian government has decided not to appeal the unanimous judgement of the Court of Appeal.
The ruling came following a successful pro bono appeal by the Afghan family concerned – an appeal supported by Dr Bjorge acting pro bono on behalf of the intervener, the UN Special Rapporteur on Torture and Inhuman and Degrading Treatment and the UN Special Rapporteur on Arbitrary Detention.
This is the first time that UN bodies have acted as interveners before Norwegian courts in this manner.
The Court of Appeal in its judgment held that the children and parents had been imprisoned illegally and they were awarded in excess of £20,000 in damages.
The family were represented by Professor Mads Andenas with the assistance of a team of University of Oslo students, and the intervener. The Norwegian Bar Council Association, represented by Bendik Falch-Koslung, too, intervened in support of the appellants.
Dr Bjorge commented:
"It is illegal under international and European human rights law to imprison migrant children—full stop. We are delighted that the Norwegian government has cut its losses and decided against an appeal to the Supreme Court in this case. The courts were never going to stand for this egregious practice. It is becoming clear to European governments that administrative detention of children is indeed inhuman and degrading treatment—whether judged by constitutional or international law standards—and must stop immediately."
The family are now due damages as their detention was a breach of the Constitution and/or international treaties by which Norway is bound.
For all the appellants, the detention was also a breach of Article 8 of the European Convention on Human Rights on the respect for family and private life.
For the children, the detention was also a breach of Article 3 on inhuman and degrading treatment, of Article 5(1) on the right to freedom and security, of Article 3 and 37 of the Convention on the Rights of the Child, and of Article 93(2) of the Constitution, concerning inhuman and degrading treatment, and Article 94(1) Article 94(1) concerning the prohibition of detention that amounts to a disproportionate measure.