View all news
Law Students Imagine Africa's Future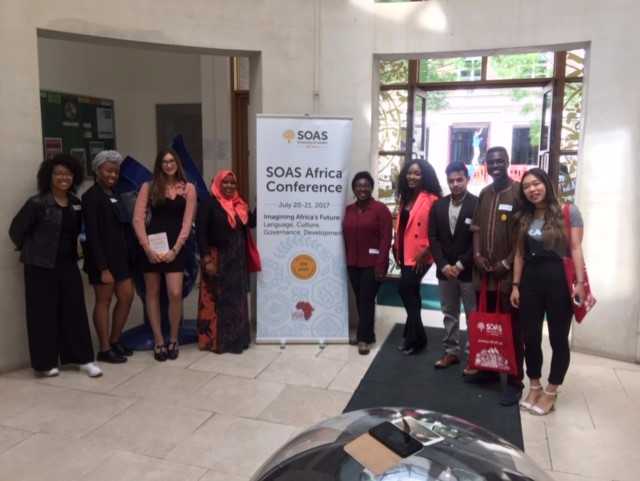 Press release issued: 26 July 2017
SOAS event inspires as students explore the future trends, changes and debates likely to shape the African continent.
Last week, the Law School's Dr Foluke Adebisi and ten law students attended the first SOAS Africa Conference, 'Imagining Africa's Future: Language, Culture, Governance, Development,' an event that illustrated the many areas of law that will play a role in shaping Africa's future.
The students saw presentations by Rama Salla Dieng and Detlef Muller-Mahn on land tenure and land use in Senegal and rural Africa generally. A number of speakers, like Camille Jacob, Lutz Marten, Amidu Sanni, Kenneth Muzata, Chege Githora and John Simpson examined language in education policies that touched on human rights issues like the right to education, culture and language.
Robtel Pailey's presentation about 'Rootedness & Rootlessness' and citizenship claims in Liberia, raised issues to those examined in British Immigration, Nationality, and Citizenship Law. Whilst Mari Dumbaugh's presentation on reproductive rights in Africa, provided insight into how North-South family planning interventions can be made more just.
The keynote address by HRH Muhammadu Sanusi II, CON, The Emir of Kano, also a former Governor of the Central Bank of Nigeria. His speech, entitled 'Africa between the Past & Future', saw the Emir dressed in full ceremonial robes eloquently examine the socio-political state of Northern Nigeria and the impact that it has had on the people, especially women and girls.
The Emir highlighted that Nigeria imports what it already has and exports what it needs. He pointed out that externally imposed norms may be difficult to adapt internally, and that you 'have to be able to argue from within the culture,' suggesting that legal norms had to organically develop within a culture and will fail if externally imposed.
Dr Adebisi, commented
The Emir drew a link between law and culture to explain the efficacy of the law to aiding development. Our students were inspired by the event, but particularly by this speech. We were honoured to have the opportunity to speak with him after the event.
The following are some comments from some of the students who attended:
The most interesting part of the experience for me was learning about various cultural and political challenges that I was not aware existed in Africa, perhaps due to previous educational experience emphasising the perspective from a "Western" viewpoint. I have learnt that the issues confronted during the conference are very much global problems and responsibility should be shared.
Emily Herbertson, 2nd year law student
I found the SOAS Africa Conference very interesting, particularly the lecture from Andre Thomas from Hunton & Williams about how law contributes to development in Africa…Furthermore, as a LLB graduate, I was able to appreciate the importance the rule of law plays in Africa and emerging economies
Ruth Kwabea-Amankwaah, LLM International Law and International Relations
It was an exciting opportunity to learn about the intersectionality of law with economics, culture and language and gain particular insight into the evolution of the 'African genre'. Without a doubt, the highlight of the conference was meeting His Excellency the Emir of Kano and learning who he was wearing (Christian Louboutin!).
Antony Thegeya, 3rd Year Law student
The conference was great, as it offered an insight into an array of topics from Afro-futurism in literature, to the impact of Colonialism in language policies in African countries. Mostly, I enjoyed learning about the specific political, economic and cultural circumstances within Northern Nigeria by the Emir of Kano.
Kelly Emelle, 3rd Year Law Student
I gained a very interesting perspective on how nationals from African countries view their own nations and their respective development. The narrative on African development is very often told to us through a Western lens and it was refreshing to hear it from an African viewpoint; such as the effect that publication of academic works in English has on the local languages in a country; and the identity politics of language.
Eleanor Zhao, 2nd year law student
The conference was very useful and beneficial. I gained a lot of knowledge and has opened my eyes to grasp what's is happening in different countries in Africa and how that informs my current course…I'm extremely grateful for Bristol University for offering us this invaluable opportunity to attend the conference… It was also amazing to network with other participants in the conference who came from different parts of the world mainly from Africa.
Zahra Kosar, LLM International Law and International Relations
Further information
The Law School is expanding its recruitment efforts in Africa. Courses that are most popular include: