View all news
The Bar Society shows its commitment to increasing diversity with successful 'No bar to the Bar' event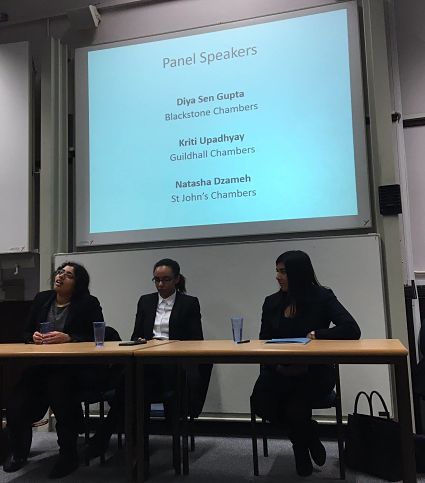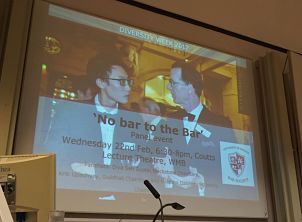 Press release issued: 10 May 2017
In February, the University of Bristol Bar Society and University of Bristol Law Club developed and delivered the first 'Diversity Week', showcasing panellists and events including 'Women in Business and Law' and the 'No bar to the Bar' panel event. Roshni Popli, Vice President of the Bar Society 2016-17 tells us more about the aims of the society and how it plans to widen its scope on diversity.
"This academic year, Bar Soc has a renewed focus on diversity at the Bar. We want to make it clear to our members that anyone with the right skills and determination to succeed at the Bar should be able to do just that. We are proud of our diverse committee and membership and believe the Bar should more accurately reflect society.
The Bar Standards Board's 2016 Report on Diversity at the Bar revealed that there has been an increase in the percentage of women at the Bar overall (36.5% up from 35.9% in 2015) and at every level of seniority. The results show that female pupils outnumber male pupils. However, the data is broken down by seniority and as you look up the ranks, it is clear that women are not experiencing the same rate of career progression as men, often leaving the Bar completely for a variety of reasons. Male QCs still outnumber female QCs by a considerable amount. Women are under-represented at the practising Bar, despite being almost even with men at the point of pupillage.
The report also reveals that Black and Minority Ethnic (BME) pupils now make up 16.3% of total pupils, which shows an increase of 0.9 percentage points on the 2015 figure. This figure is approximately in line with the ethnic make-up of England and Wales as a whole.
As much as we can't change the statistics, as a Bar Society with a large influence, we can instil positive ideas in the minds of aspiring barristers at Bristol University before they even start training. We don't want feelings like 'the Bar is not for people like me' to become self-fulfilling prophecies.
We have been promoting access schemes such as the Inner Temple's Pegasus Access and Support Scheme (PASS) and the Middle Temple's Access to the Bar Award since the beginning of term and we are delighted that so many of our members have been involved. Diversity week sought to encourage students from non-traditional backgrounds to consider a career at the Bar, breaking down stereotypes through inviting barristers who don't necessarily fit the image of the stereotypical barrister to speak.
'Diversity Week 2017' was the first of its kind within the Law School, and it was jointly held with the UBLC. On Wednesday 22nd February 2017, we welcomed 3 panellists: Kriti Upadhyay from Guildhall Chambers, Natasha Dzameh from St John's Chambers, and Diya Sen Gupta from Blackstone Chambers. Each panellist spoke a little about their route to the Bar and discussed various issues of diversity, discrimination and stereotypes.

Diya Sen Gupta travelled from London to speak to us. Having won her case earlier that day, Diya assured us that the thrill of winning never ever goes away! She told us that, by talking about her own experiences, she hoped to encourage us to believe that there was "no bar to the Bar" and not to be afraid to consider the Bar as a career choice.
Natasha Dzameh grew up in Hull and completed the BVC before working in a law firm. She then undertook a Masters in International Commercial Law at the University of Nottingham. She spoke of how her time working as a County Court Advocate provided very useful advocacy experience and was an invaluable talking point in pupillage interviews.
Kriti Upadhyay specialises in clinical negligence and personal injury. She was born in India, but moved to the Middle East aged 3 and then the UK aged 12. After completing her undergraduate law degree at Oxford University Kriti then did a Masters in medical law at King's College London. Kriti then worked as a paralegal and spent 6 months travelling before commencing her pupillage. Kriti spoke enthusiastically of Guildhall Chambers' very supportive atmosphere. A pupil at Guildhall has a mentor and a supervisor, affording them unique support throughout pupillage. Kriti's enthusiasm for Guildhall Chambers was blatant as she spoke about the social aspects of chambers, including friendly common room lunches with other members of Chambers.
Some of our speakers commented that they are often the only non-white person in the room and even the only female present. Natasha, a commercial and chancery barrister, noted that this is typical of her practice area.
On the issue of being treated differently because of their gender, they noted that sometimes, regardless of gender, you might be treated less than courteously by another barrister, especially towards the very beginning of your career. An opponent could be patronising or rude but it is a fact that you will encounter rude individuals at the Bar regardless of your race or gender as in any profession – you just have to get on with things regardless, and ultimately if you win, it makes victory even more satisfying.
Consensus was reached by the panellists on the fact that the profession's historic bias towards skirts and dresses has gone.
By the time Diya moved from Devereux Chambers to Blackstone Chambers in 2008, she already had two children. In answer to a question about the attitude to maternity leave Diya, who now has three children, spoke about how there was a general recognition of the importance of trying to improve the retention of women at the Bar and this included obligations on Chambers with regards to both maternity and paternity leave and caring responsibilities. By way of example, Diya explained that some Chambers offer a rent free period and there is a Bar nursery in London.
It was clear hearing from all three panellists that the flexibility of the profession is one of its most desirable qualities. Your time is yours to choose as you spend it. As a result of being at the Bar, Diya probably manages to attend more of her children's' school events than those in employed roles do. Kriti commented on how the flexibility of the profession affords one of her colleagues, a male barrister, the ability to support his busy partner by taking time off during all school holidays and taking on more of the childcare responsibilities than she can due to her restricted working hours.
On the apparent lack of career progression for female barristers, Diya noted that though not all barristers (male and female) aspire to silk or towards a judicial position, those who do (male and female) should be encouraged to stick at it and push forward towards silk and judicial positions if that is what they wanted.
This event was a very positive and engaging one. After each panellist had spoken about their own unique route to the Bar, the question and answer session flourished into more of an active debate and discussion on the current state of diversity at the Bar. Thank you very much to our three panellists, Diya, Kriti and Natasha for coming, and all of our attendees.
At the Law Careers.net Student Law Society Awards 2017, our society won the award for the society most committed to increasing diversity (sponsored by Mayer Brown International LLP) jointly with the UBLC. We look forward to seeing many of you at Diversity Week 2018 to further our aim of promoting diversity at the Bar!"