View all news
Law Clinic students recognised for pro bono work at LawWorks and Attorney General Student Awards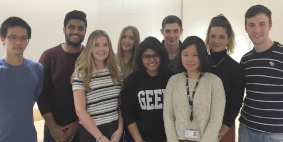 27 April 2017
Last night the shining lights of the student pro bono scene were celebrated at the annual LawWorks & Attorney General Student Pro Bono Award. Law Clinic students fought off tough competition to become the runners up for the Best Contribution by a Law School.
Held at the House of Commons, the awards are designed to recognise the exceptional work being done by students and their law schools around the UK in the provision of free legal advice and support.
The winners of the four categories were:
Best contribution by a law school: University of Birmingham Law School (runner-up University of Bristol Law School);
Best contribution by a team of students: Teesside Law Clinic (runner-up BPP Leeds Mock Trial Team);
Best contribution by an individual student: Anna McCormack, University of Leicester (runner-up Roisin Donnelly, University of Strathclyde); and
Best new pro bono activity: Welfare Rights Project at the University of Leeds (runner-up University of Greenwich Legal Centre PIP Form Filling Project).
In the year to April 2016 over 2,600 students volunteered in law clinics across the LawWorks clinics network, receiving over 16,000 enquiries. Of over 220 clinics in the network, just over a third operate with law schools providing advice in a variety of areas such as family, welfare benefits, employment, housing and small claims. Students also volunteer for fundraising, providing information for the public on legal issues, and volunteering with local advice agencies and charities.
James Harper, head of customer engagements at LexisNexis UK & Ireland (and one of the panel of four judges, which also included LCN's Isla Grant), said:
"LexisNexis is incredibly proud to sponsor the LawWorks & Attorney General Student Pro Bono Awards now in their 11th year. Advancing the Rule of Law is at the very foundation of LexisNexis's global strategy, and securing access to justice for all is a critical strand of our efforts. We are honoured to support the innovative and vital pro bono work being delivered across the country and we congratulate all those nominated and shortlisted for their valuable contributions."
Congratulations to all involved.