View all news
Lady Hale opens new building to boost student employability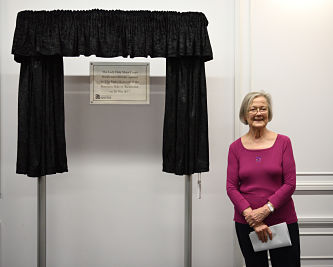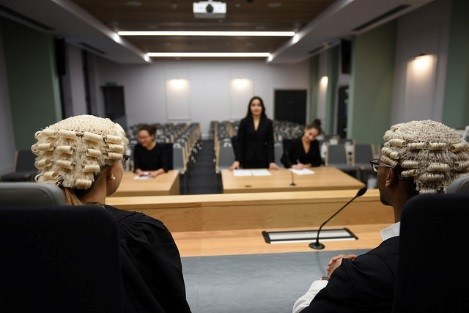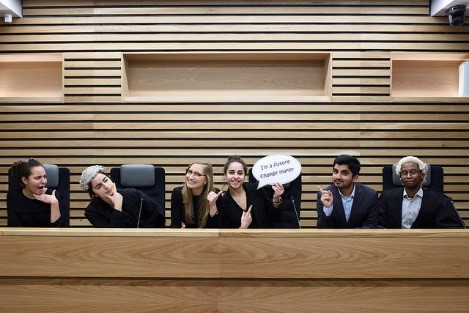 Press release issued: 26 May 2017
An exciting refurbishment project that has created a space for law students to develop the skills future employers want, culminated with the opening of the Lady Hale Moot Courtroom this week.
The Right Honourable Baroness Hale of Richmond, the UK's most senior female judge, and the University's Chancellor for 13 years until her retirement last year, was honoured at a naming ceremony in the newly refurbished 8-10 Berkeley Square.
In the Lady Hale Moot Courtroom students will take part in mock trials, complete with legal arguments, court etiquette and a judge. Here, they will have to argue their points and convince the judge that they have the strongest case.
Head of School, Professor Joanne Conaghan, commented;
Lady Hale is a symbol of inspiration for students. The epitome of excellence, she has broken many glass ceilings for women in law and brought about some significant legal reforms. It's no wonder her cases are frequently cited in our mock trials.
As well as honing advocacy skills, students taking part in mooting also develop their research skills, gain an understanding of team working and have the opportunity to network with legal practitioners – which in turn builds confidence and boosts self-esteem.
Professor Conaghan concluded;
It is fitting that Lady Hale's name be permanently associated with such a wonderful part of our students' development. Her academic background means she has a rich appreciation of how the skills they gain through mooting go beyond the quality of their degree - to offer employers something much more valuable.
8-10 Berkeley Square is also home to the University's Law Clinic which provides students with the opportunity to be involved in real life cases. See Mariya's story.
A tour of the building is planned for the Best of Bristol Alumni weekend taking place 14-16 July.