View all news
Human Rights Implementation Centre involved in new film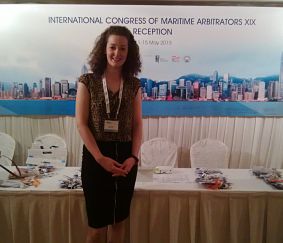 Press release issued: 3 August 2017
This week saw the release of a short-animated film to raise public awareness surrounding human rights abuses at sea – abuses that often occur out of sight and out of mind.
This is the first film in a new Human Rights at Sea educational series titled: "An Introduction to Human Rights," which was supported by the University of Bristol's Human Rights Implementation Centre.
The aim of the project is to ensure on-going public advocacy to address the explicit need to openly and transparently discuss the full range of human rights issues, particularly in a maritime environment.
The films will highlight the protections to which everyone is entitled to under established national and international law.
David Hammond, CEO, Human Rights at Sea, commented:
The charity continues to innovate, advocate and lead on the explicit issue of human rights in the maritime environment. This new film series will fully explore all aspects of our work through close academic and industry partnerships to ensure balanced representation of the issues exposed.
Dr. Sofia Galani of the University of Bristol's Human Rights Implementation Centre, commented:
Bristol law students and I have great pleasure in contributing to the background research of the charity's educational films. The new features are a testament of the charity's commitment to educating seafarers about their human rights and raising awareness about the importance of safeguarding those rights at sea.
The film was developed by Human Rights at Sea in partnership with the University of Bristol's Human Rights Implementation Centre and Marlins, V.Group's training business.
Callum Fleming, multimedia developer at Marlins, said:
This can be a complex and emotional topic and we wanted to create a contemporary, engaging video that would help all seafarers, regardless of their nationality, understand what their human rights are. We are proud to have been selected to support Human Rights at Sea in this campaign and work has now begun on the second video.

VIEW FILM
Human Rights at Sea believes in making all of its materials freely available to everyone and has established a new area on its website for the downloading of free educational materials – here.
Should an organisation or individual wish to sponsor a future film, or series of films, please contact: enquiries@humanrightsatsea.org
Further information
ABOUT
Human Rights at Sea is an independent maritime human rights charity registered in England and Wales established for the benefit of the international community for matters concerning explicit engagement with human rights issues in the maritime environment. Its Mission is to explicitly raise awareness, implementation and accountability of human rights provisions throughout the maritime environment, especially where they are currently absent, ignored or being abused. http://www.humanrightsatsea.org
The University of Bristol's Human Rights Implementation Centre is a leading institution for the implementation of human rights, that works in collaboration with a number of organisations and bodies, including those in the United Nations, the African Commission on Human and Peoples' Rights, the Council of Europe, governments, and organisations at the national level. The Centre works with a range of institutions to create a better understanding of how the implementation of human rights can be strengthened globally. http://www.bristol.ac.uk/law/research/centres-themes/hric/
Marlins, a V.Group business, is the leading brand in training solutions for the shipping industry. Working closely with industry partners, Marlins provides high quality, cost-effective training courses and assessment products, which comply with the rigorous standards required by the shipping and offshore industries. www.marlins.co.uk
V.Group is the leading global marine and offshore vessel management and support services provider, with 3,000 personnel based across 70 offices globally, supporting over 40,000 personnel in marine and offshore roles. www.vgrouplimited.com