View all news
Professor Phil Syrpis presents talk at House of Commons Brexit seminar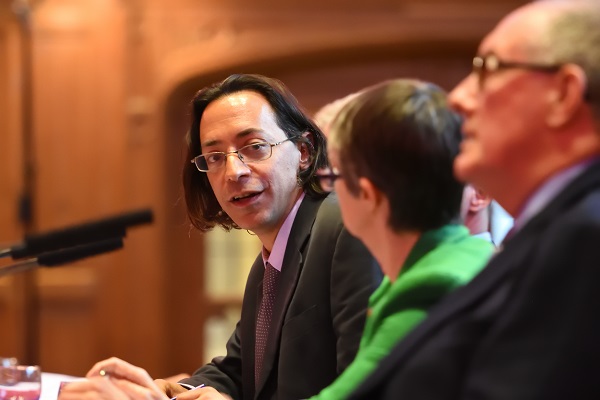 Press release issued: 26 May 2017
Professor Phil Syrpis was one of four experts speaking at a roundtable seminar, 'Legislating for Brexit in the 2017 Parliament', held at the House of Commons on the 22nd May.
On the 30th March, the Government published 'Legislating for the United Kingdom's withdrawal from the European Union'. Phil Syrpis, Professor of EU Law and Academic Fellow in the House of Commons Library, was one of the speakers at a roundtable seminar held at the House of Commons to discuss the plans outlined in the White Paper to introduce legislation for the creation of a framework for EU-derived law post-Brexit. The plans are discussed in detail in the House of Commons Library Briefing Paper 'Legislating for Brexit: the Great Repeal Bill'.
Professor Syrpis' presentation focussed on 'Converting EU law into UK law'. The seminar covered four topics, with discussions following each presentation. Other topics included 'Pre-introduction processes and Commons proceedings' by Colin Lee (Clerk of Bills, House of Commons), 'Implementing the withdrawal agreement' by Arabella Lang (Senior Library Clerk, House of Commons) and 'The volume and timing of delegated legislation' by Jane White (Lords Clerk to the JCSI and Adviser to the SLSC).
Further information
Professor Syrpis is an expert on the EU treaties. He has been filmed talking about the triggering of Article 50 and has published academic research on a wide range of subjects relevant to Brexit, including EU employment law, EU trade law, free movement, the Court of Justice of the European Union and the European Union's institutional framework.
As part of a knowledge exchange fellowship between PolicyBristol at the University of Bristol and the House of Commons Service (April – October 2017) Professor Syrpis will be providing expertise in EU Law to contribute to the work of the House of Commons Library and relevant Select Committees, assisting with the production of impartial briefings and research in targeted areas. For more information please click here.
To find out more about the Law School's Brexit-related research, news and events please see our Brexit Centre pages to keep up to date.