View all news
Law School academic and alumnus lead All Souls College seminar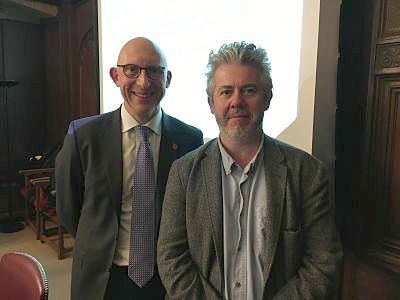 Press release issued: 7 November 2017
Professor Alan Bogg and Dr Daniel Schaffer were key discussants in a seminar ('Trusts, Contract, and the Future of Discretionary Powers: the IBM v Dalgleish litigation') held at the University of Oxford last week.
On Thursday 2nd November, Dr Daniel Schaffer (Partner at Slaughter and May and Bristol alumnus) and Professor Alan Bogg (University of Bristol) led a seminar analysing the significant litigation leading to the victory of the appellant in the Court of Appeal case of IBM v Dalgleish [2017] EWCA Civ 1212 before Sir Timothy Lloyd and Arden and McCombe LJJ. They were joined by Mr Fraser Campbell (Blackstone Chambers and All Souls) and Professor Mark Freedland FBA (University of Oxford). The seminar was held in the Old Library at All Souls College, University of Oxford.
The seminar led to a lively debate between the IBM legal team (Schaffer and Campbell) and the labour lawyers (Bogg and Freedland). The result was too close to call. The seminar was attended by graduate students on the Oxford BCL course and leading academics from the University of Oxford, UCL and the University of Edinburgh. The discussions went on long into the evening over dinner at All Souls College.
Further information
For further information about the seminar and the discussion points examined please visit the All Souls College website.