View all news
Why we became the Mistresses of the Moot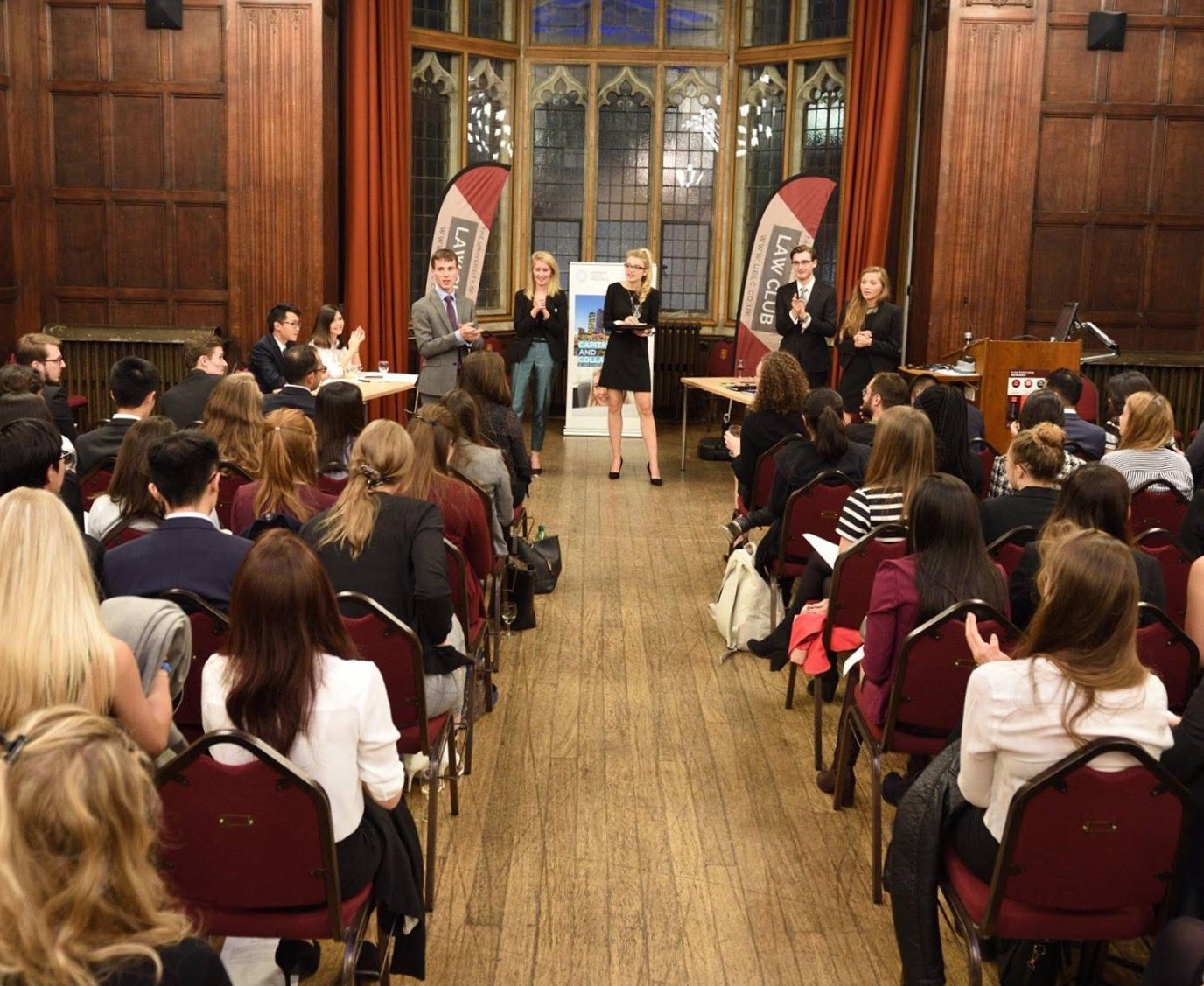 Press release issued: 22 November 2016
Why we became the Mistresses of the Moot: Georgia Tetlow and Raina Hayles are this year's UBLC Mistresses of the Moot . In this Q&A they talk about what inspired them to put themselves forward, how mooting has enriched their university experience – and how students should embrace the opportunity to be involved. They also talk about 'Elle Woods' moments, how not to respond to a judge's question and the similarities between mooting and musicals! An upbeat interview with individuals that are clearly passionate about their cause - including the management of the annual UBLC Herbert Smith Freehills mooting competition.
How do you feel to have been selected as Mistresses of the Moot?
Georgia: To become mistress of the moot, you have to promote yourself to the year group and then the whole society elects you. So it's completely democratic! I felt delighted when Raina and I were chosen because to be voted for by your peers is very rewarding. It was hard work to create a manifesto and to justify each point to those who are your potential voters.
Raina: I am honoured to be part of such a prestigious and sought after competition. Being elected by my peers feels amazing, and campaigning was a lot of fun. I love the responsibility, and I looked up to the Mistresses of the Moot when I was in first year. I hope I can be an example for first years. I am very passionate about mooting so the job is easy!
What inspired you to put yourself forward?
Georgia: I won the first year Herbert Smith Freehills competition, and this achievement gave me the confidence to stand for the position. I felt that I had developed enough experience to use it as an organiser of the competition, and to help new mooters who are in the same position as I was last year!
Raina: I really admired the Mistresses of the Moot when I was in first year. They seemed organised and clever, whilst being very professional. When I took part in the competition, I realised how good at advocacy they must have been to be able to sign their emails 'Mistress of the Moot' (one of the perks of the job). I got through more and more rounds in the competition, and once I was in the final I felt I had the required experience to be the Mistress of the Moot. When I won my first moot it was a real 'Elle Woods' moment from Legally Blonde and I just wanted to get better and better!
What is your main role as a 'mistress' of the moot?
Georgia: Our roles consist of organising the first and second year mooting competitions. In particular, I am responsible for maintaining contact with law firms to arrange judges for each round. This is quite an intense job, yet really rewarding because I have contact with a lot of firms and external fee-earners. In addition, it is my responsibility to secure courts for our finals in 2017 (watch this space!)
Raina: My role is primarily to support and organise the students taking part. I allocate the cases and the student positions, lead appellant, junior respondent etc. I also answer any questions they have about the case or their position.
What is your main goal this year in the role?
Georgia: Our main goal in my opinion is to sustain the prestige of the Bristol mooting competition: this includes maintaining close relations with our sponsors, Herbert Smith Freehills. We also aim to promote the Bristol competition through expanding our reputation with other firms. Within my role, I would like to develop and introduce new relationships between Bristol and a wide variety of lawyers from all legal backgrounds.
Raina: I really want to have an amazing final. Two years ago the final for first years was held at the Supreme Court and I would love to hold it somewhere quite outstanding. But, most of all, I want all the students to really enjoy the competition and get something out of it.
What was your first experience of a moot?
Georgia: I'm not going to lie, the first experience can be pretty daunting! I remembered preparing for a really long time to make sure I knew my cases inside out. This actually had its advantages, as I was able to be versatile with my arguments. However, after my first case mooting preparation became easier. The area of the moot I found the hardest was probably responding to the judge's questions, and if you have a difficult point of law to argue they like to address all of the 'sticky' points of your argument! Nevertheless, with persistence, the questions became easier after a few rounds.
Raina: I had done quite a lot of public speaking during my time at school, however my first moot was at university during the first round of the competition. I was so nervous! But I knew if I was confident I would stand out, so I prepared a lot and practiced in my room until I felt comfortable and as confident as I could be.
Has mooting helped you develop in your studies / personally?
Georgia: Definitely! Mooting is a fantastic extra-curricular discipline because it develops both your academic and personal strengths: I found that the diligence with which cases have to be analysed improved my legal skills and certainly helped my academic knowledge for exams. Personally, my confidence in communicating with people had improved tremendously. As an aside, I have also benefitted from the networking which occurs after each round with the judges. This has improved my ability to talk to lawyers in a relaxed, yet professional manner.
Raina: Mooting definitely helps with your studies as you are mooting about concepts you have learnt about in lectures. You also have to go into the intricacies of these concepts in order to get your points across, which can give you an edge when it comes to exams. For me personally, mooting has definitely improved my public speaking skills. I also feel more comfortable getting my point across whenever I am debating with someone. It has taught me how to speak in a concise and articulate manner, meaning I am more confident going into interviews and assessment days. Whilst I haven't had the time to participate in many musicals or plays at university, which I was extremely passionate about at school, I have found a new passion in mooting which requires similar attributes.
What has been your biggest challenge in the role of 'mistress'?
Georgia: Our biggest challenge is to sustain the reputation of mooting as a discipline which can facilitate and enhance all aspects of a legal degree, and in turn a legal profession. I have certainly noticed that mooting is stigmatised as specifically targeted at aspiring barristers. This is certainly not the case, as the skills you learn through mooting apply to all walks of legal life. Our challenge this year is to stress this and to promote mooting to all aspiring lawyers.
Raina: Overcoming your nerves as a mooter is very difficult. You have to appear as though you are not nervous at all and stay completely composed, which can be difficult when you are also trying to articulate an academic argument. As mistress of the moot, it can be difficult to manage my time as I have lots going on. However, I am always willing to put in the time because sometimes it is a welcome break from reading textbooks!
What moot are you most proud of?
Georgia: Most certainly the final. This was a very challenging case, not just because of the legal issues but because of the depth I had to know my cases. I had a rather difficult ground to argue, and I knew the questions would be tough. To stand in front of a judge-QC and an audience, and to asset myself through my submissions was really rewarding. I did have an awkward moment when I respectfully dismissed the judge's question (because I didn't know how to answer it... you should not do that!) but I actually feel that this worked in my favour, because it seemed that I knew my case and the relevant facts.
Raina: I am most proud of my final moot. It was extremely rewarding to be judged by a QC and to come second in a competition of 64 people. I also had all my family watching, which made me feel as though I had to perform well in order to impress them. I was very proud to have made it to the final, and all the finalists were amazing mooters, with the judge saying several times how he had changed his mind about who had won more than once. It was very close and I think everyone was proud to be a part of it. The case concerned sadomasochistic behaviour and was very interesting to prepare for.
What plans do you have for your career beyond University?
Georgia: The dream would be to qualify as a barrister. However, I am aware of the intense competition for pupillages, and therefore I feel that is it important to not narrow one's mind too early. I am hoping to secure a couple of vacation schemes at commercial firms for 2017, and if I enjoy these then anything is possible!
Raina: I would like to become a solicitor in a commercial law firm. I believe the skills I have gained from mooting would help with all careers as they are required in everyday tasks.
What advice would you give a student just discovering mooting?
Georgia: I would say first and foremost, enjoy the rewarding feeling of submitting a case that you have researched and spent so much time on. Mooting should be fun, and it is such a great feeling to stand in front of an external judge and promote yourself as a professional advocate. More specifically, I would say that my top word of advice is to always remember that you're submitting grounds to a judge: the judge is the person you are persuading, and so eye contact and confidence is everything. With this connection with the judge, you can't go far wrong.
Raina: I would advise students to give mooting a go! You won't lose anything from it, and you can gain a lot even from just mooting once. You will get very useful feedback. You don't need any previous mooting experience and if you enjoy public speaking you will definitely love it! Just give it a go! Also, speak to others who have tried mooting before to get an idea of what it is all about.
Finally, why did you choose Bristol to study law?
Georgia: I chose Bristol primarily because of the people. Everyone seemed so enthusiastic and passionate about a degree which is supposedly 'dull' and 'dry' at times. How wrong this opinion is! Bristol enhances law's dynamic and exciting nature.
Raina: Actually I applied to Oxford University and made it to interviews, but wasn't offered a place. Bristol was my second choice because the University of Bristol Law Club is amazing in that it offers so many opportunities and the Law School is very highly regarded. I was absolutely gutted when I didn't make it into Oxbridge, but I now realise how lucky I am to be at Bristol and I wouldn't change that. It is perfect for me and my family and friends have all said how I've 'blossomed' at Bristol, in a way I wouldn't have been able to at Oxford.
Further information
To find out more about the mooting activities of the School and various student societies visit our Mooting and Debating webpage.