View all news
Q&A with this year's Law Clinic Student Directors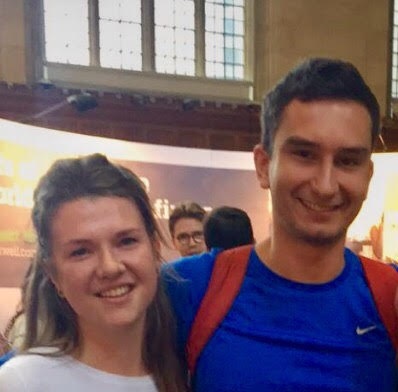 Press release issued: 21 November 2016
Following another extensive recruitment drive, this year the Law Clinic was able to offer more students than ever before an opportunity to be involved in the Law Clinic. Rhona Egerton and Oliver Foudah have been involved in the Law Clinic since 2013 and are this year sharing the responsibility of Student Director. In this Q&A they talk about how the Law Clinic has grown in recent years, the diversity of cases that they've worked on in the past and how the experience at the Law Clinic has shaped their career choices.
How do you feel to have been appointed this year's Student Directors of the Law Clinic?
Rhona: I was delighted when Nick Roper, the previous Student Director, informed Ollie and I that we had been appointed to take over for this academic year. With both of us having spent a year out studying abroad, it's really exciting to have come back to Bristol and to have jumped straight back into our work with the Law Clinic.
Ollie: Having already spent a year working with Rhona on the Law Clinic Committee during our second year, it's really exciting to have the opportunity to pick up where we left off. There has been such significant positive development in the Law Clinic since our academic director, John Peake, joined us in 2014, and I am really looking forward to the challenge of building on and developing the Law Clinic's sustained success in the local community.
What are your main objectives as this year's Student Directors?
Ollie: We have two main objectives that we want to focus on during our directorship. First, we want to build on the outstanding work that the Law Clinic already does by expanding our presence in Bristol by accepting more clients, and working on a variety of different projects within the local community. Secondly, we are really keen to improve our online and social media presence. Nowadays there are so many different social media platforms that can really help us reach out to the public. We understand it as a vital tool to get exposure in the community and to connect with our student members as well as our clients.
Rhona: This is such an exciting time to be part of the Law Clinic. We're moving into our new custom built pro-bono suite at 8 Berkeley Square in January, and as Ollie mentioned, we have recently launched some exciting new projects with organisations such as CLIC Sargent and the Bristol Drug Project. We really want to capitalise on these opportunities and keep ensuring that the Law Clinic continues to provide such a needed pro bono service, in the most professional and effective manner we can.
Why did you decide to apply for the Law Clinic in your first year?
Ollie: The first time that I heard about the Law Clinic was during my offer holders' visit day sometime in the spring before I started at Bristol. This was at a point when I was yet to make up my mind about which University I wanted to go to and I remember that the wide variety of extra-curricular opportunities that were on offer at Bristol, notably the Law Clinic, was a key factor in my ultimate decision. No other law schools that I was considering offered such an invaluable opportunity to gain practical experience alongside my law degree.
Rhona: I wasn't aware of the work of the Law Clinic before I arrived at Bristol, but when I heard about the Clinic during Welcome Week, I was amazed that such an opportunity was available even for first year students. I applied not expecting to be successful, but was elated when I found out I had been made a member, and I haven't looked back since.
Do you feel as though the Law Clinic has changed much since you joined in 2013?
Ollie: The Law Clinic has changed greatly since I joined in 2013. Year on year we have been able to continue our sustained membership expansion and we now have a total of 120 student members. Since John Peake joined us in 2014, we have not only taken on a greater number of client cases, but have been able to take on cases with much greater complexity. Furthermore, with the Clinical Legal Studies module now in its second year of operation, it's been very interesting to see a large number of final year students be able to use the practical work that they do with the Clinic in their degrees.
Rhona: We've managed to expand in all areas: we're taking on a greater number and greater diversity of cases, we have more partnerships with projects in the local community, and we have more membership places on offer for students. Applying to the Law Clinic has understandably always been a very competitive process. As Student Directors, we were delighted that this year we could welcome a greater number of students to the Law Clinic who can benefit from being involved with such a fantastic organisation.
What type of cases have you worked on and what have you found the most interesting?
Rhona: I've been lucky to work on a variety of cases, from PI claims and consumer rights issues, to housing and employment disputes. The cases I have found most interesting have often involved the substantive law that we've covered over our degree, like tortious and contractual claims. I find it fascinating to see the theory that I've read about in textbooks actually play out in real-life cases, as it reinforces just how useful and relevant law is as an academic discipline.
What has been most rewarding for you personally during your time as a member of the Law Clinic?
Ollie: By far the most rewarding part of my involvement in the Law Clinic has been instances where I have worked for a client who really felt as though they had nowhere else to turn to, and then we have subsequently been able to get a positive result for them. The genuine gratitude and appreciation that you get from clients in cases where you have been able to resolve serious personal issues for them, makes all the hard work that goes into a case really worthwhile.
What has been your biggest challenge whilst working for the Law Clinic?
Rhona: Sometimes the subject matter of cases can be particularly challenging, emotionally rather than intellectually. I've attended court before with clients facing eviction notices, and it's quite a distressing situation. It can be hugely testing trying to support clients when they are facing such difficult and upsetting circumstances, but we are incredibly lucky to have such an excellent support network in John and Louise (our Director and Executive Assistant respectively), as well as amongst all of our fellow student members.
What are your plans for the future?
Ollie: Rhona and I are both fortunate enough to have been offered training contracts in London with Allen & Overy after we've finished university. We are both planning to take six months off once we've graduated before we start our LPC. We certainly looking forward to applying all the practical skills that we have developed during our time in the Law Clinic in a commercial setting. Even after we've left Bristol we are very keen to continue our involvement with the Law Clinic in some way. We are currently looking at the possibility of setting up a Law Clinic Alumni Network so members can keep connected even after they have left Bristol.
Has your experience with the Law Clinic influenced your career choice?
Rhona: It's such a privilege as a student to be able to work directly with members of the public on real life legal issues. This exposure has confirmed to be that I really want to work in client facing environment with other like-minded people. I am really looking forward to continue with my legal education and training, which will hopefully allow me to keep working on even more complex and pressing pro bono cases throughout my career.
Ollie: Like Rhona has mentioned, I really believe that the amount of client contact and exposure that you are able to experience through working in the Law Clinic affirmed my desire to work in a profession that is centred on providing a professional service for clients. I was also able to realise my passion for working in teams and knew that I wanted my chosen career path to involve a large amount of teamwork.
Finally, what advice would you give a student just starting out at the Law Clinic?
Rhona: My main piece of advice would be to not shy away from opportunities. It can be quite nerve-wracking working on your first client case or presentation, but the best way to learn is just to get stuck in. Getting through such a competitive application process means that you are more than qualified to be a member of the clinic – believe in yourself!
Ollie: I would just say to try and get involved in as many of the various opportunities on offer as possible. The Law Clinic is now able to offer such a diverse range of initiatives for students to get involved in, and only through experiencing a varied range of experiences will you be truly able to find where your key skills lie and what interests you most.