View all news
Q&A Prof John Coggon: Opportunities for Health Law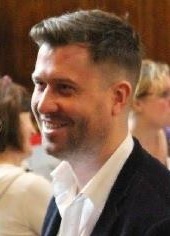 Press release issued: 9 November 2016
This academic year we have welcomed 13 new members of staff to our teaching team. Our newly appointed Chair, Professor John Coggon brings extensive knowledge of law and policy regarding health and well-being.
In this Q&A John talks about why he chose Bristol, how he was inspired by a specialist health module as an undergraduate at the University of Sussex, and plans to advance the University's focus on health.
Where were you working prior to joining the Law School? What was your role there?
I was at the University of Southampton Law School, where I was Professor of Law and the Philosophy of Public Health.
What was it about Bristol and the Law School that encouraged you to apply for a role here?
The Law School and the University more widely are very exciting places to work: there are excellent students, superb researchers, and the potential to engage in collaborations across disciplines and with people and organisations outside of the institution. Bristol is the most fantastic city. I feel very fortunate to live and work here.
From a personal perspective what are you most looking forward to?
I'm very excited to be involved in education across various areas of interest, to be developing further teaching possibilities in relation to law and health, and to be working with colleagues to advance these and related research agendas.
What do you hope to achieve in your role as Chair in Law?
I plan to contribute to core and specialist teaching within the Law School, and aim in my research to advance the University's focus on health, in particular by contributing to our understanding of how law and policy contribute to health agendas.
What is your specialist area? How did you get into this field?
My work focuses primarily on law and policy regarding health and well-being. I'm particularly interested in public and global health, and mental capacity law. I found my way into this field following an inspirational specialist module that I studied in my final year as an undergraduate. I am fascinated by how we understand and try to resolve controversial questions in law and politics, and health policy provides an excellent practical focus for this.
Where do you see you work in this area going in the future?
As well as doing theoretical work, I engage frequently with governmental, policy, and professional organisations. I hope in the future that I will develop such collaborations further, and contribute significantly to the University of Bristol's focus on health as an area of key importance.
Where and what subjects did you study as a student?
I read Law as an undergraduate at the University of Sussex, and studied for my PhD in Law at Cardiff University.