View all news
Q&A: Dr Elina Steinerte on a career in human rights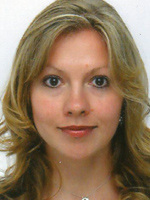 Press release issued: 12 December 2016
Born in the Soviet Latvia, Dr Steinerte grew up with family stories about exile in Siberia. In this Q&A Elina discusses how this instilled a deep rooted understanding of how people should and should not be treated. She also gives an example of how a visit to a prison in the Former Yugoslav Republic of Macedonia reminded her why the little things count – and her pride at being invited to be involved in the UN's Working Group on Arbitrary Detention.
When did you first become aware of human rights?
Having grown up in the Soviet Union, I think the issue of human rights was always just there, lingering. Nobody spoke about human rights, at least not in the understanding of the international human rights law. But the sense of fairness, of how people ought to be treated, of what's right and what's just wrong, that was always there. I come from a family who were torn by the Soviet regime as part of my family became refugees in the Western Europe after the WWII while other part were sent to exile in Siberia. I grew up with stories of Siberia which is where I think my personal interest in international human rights law were anchored. But the real understanding didn't come until I was a law student in the again independent Latvia. That was time when the 'old Soviet- time' law professors were on their way out and new, young, very well educated and enthusiastic law teachers were just upcoming. It was an inspiring time to be a law student in Latvia.
When you decided to study law, were you already planning a career in human rights?
No, I did not. As a matter of fact, I had always wanted to study political science but for whole variety of reasons it did not happen and I started my studies in the Law Faculty of the University of Latvia in 1996. My interest in the political science was deep-seeded though as I did my PhD in political science later on in Scotland. Although upon completing my PhD I decided that my true place was in the international human rights field, having strong political science background has been hugely beneficial not only for research in law but has also allowed me developing better understating of the processes behind international human rights law.
What has been your most significant achievement to date?
For me, achievement is about making a difference. I understand that I might not be able to change the world, but if I can help one person, even if ever so slightly, it's an achievement for me. So, to give a recent example, I recall a visit to a prison in Stip, in the Former Yugoslav Republic of Macedonia. It was a training visit with the aim of assisting the local monitors to develop their prison monitoring skills and with that, our impact upon the local prisoners in terms of what we could do for them, was very limited, to say the least. I explained all this to an old man, a prisoner in his very run-down, overcrowded cell and we talked about his daily life in the establishment, about the problems and issues. And as we finished, as I was leaving the cell, I apologized we cannot really assist with the issues he raised. But he thanked me and when I asked why, he said 'you talked to me as if I was equal and so you made me feel human today". For me, that was a big achievement.
What is your role in the HRIC?
I am Senior Research Associate and currently work on a research project which aims to produce a set of four monitoring tools for prison oversight. This is a project to assist the work of the National Preventive Mechanism (NPM) in Georgia and now we have Armenian NPM aboard too.
What have you been involved in most recently?
Last week was a huge privilege and a very interesting experience for me as I took part in the regular session of the UN Working Group on Arbitrary Detention. I was appointed to this UN Special Procedure mandate by the Human Rights Council on 30 September 2016 and took up my office on 1 November 2016. Three weeks later I took part in my first session of the UN WGAD. It was very intensive week, with very full working days during which we, inter alia, considered nearly 20 individual communications, cases.
How does the work you do on the ground influence your teaching?
I think the practical, on the ground experience is really paramount in the field like international human rights law because it allows to ground the theory into real life situations. It allows to illustrate complex legal constructs and show how they operate in the real life. Although I have spent all my professional life in academia, for me it was always of paramount importance that I do not stay in some sort of a 'tower of academia', that my knowledge and understanding of international human rights law and emerging issues is real, relevant to the current developments. This is one of the reasons why, for example, I spent two and a half years on the Bristol prison Independent Monitoring Board (IMB). The same goes for my current position as a member of the UN WGAD which will have great practical component both through the consideration of individual petitions and in-country missions. I really cannot see other way of being in the international human rights field.
Further information
Dr. Elina Steinerte joined the Law School in June 2006 on a high profile AHRC-sponsored research project led by Professor Rachel Murray and Professor Malcolm Evans. The project examined the implementation of the Optional Protocol to the UN Convention Against Torture and the effectiveness of national institutions appointed under this instrument.
In the Law School here, Elina has taught International Law and Human Rights course at postgraduate level and on the EU Law course at undergraduates' level. Since June 2009 Elina has been a Research Associate with the Human Rights Implementation Centre.