View all news
Clients of McKenzie Friends needed for new research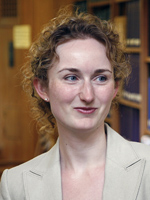 Press release issued: 21 October 2016
In the wake of legal aid cuts there has been a rise in fee-paying MacKenzie Friends, non-lawyers that support individuals otherwise unable to afford formal legal representation. In her latest blog, Dr. Emma Hitchings outlines why there's a need to find out more about them – and her role in interviewing those that have employed them.
Fee-charging McKenzie Friends are a current hot topic in the legal press. Only this week a fee-charging McKenzie Friend was jailed for perverting the course of justice in a private family law case and earlier this year the Judiciary conducted a consultation into the courts' approach to McKenzie Friends.
In response to the ongoing debate, the Bar Council is currently funding research into the work that fee-charging McKenzie Friends do to support litigants in person in private family law cases. There is very little evidence about the background, skills and practices of fee-charging McKenzie Friends and there is no research on the factors underpinning litigants' decisions to employ a fee-charging McKenzie Friend or on their experiences as McKenzie Friend clients.
Dr. Emma Hitchings is part of an independent research team looking into these issues and is currently in the process of recruiting clients of fee-paying McKenzie Friends that have used them to help resolve a dispute about childcare arrangements or post-divorce financial arrangements.
Potential participants can find out more information by visiting this website, or they can take part by sending an email to McKenzieFriends@cardiff.ac.uk.
Read Emma's full blog for more information.
Further information
Emma Hitchings is a Senior Lecturer in the School of Law at Bristol University. Emma's main research interests lie in the field of family law. Since 2007, she has been the academic member on the Family Law Committee of the Law Society of England and Wales and in 2010 she was appointed as an advisory board member for the Law Commission (Marital Property Agreements). The main focus of her work is in the area of financial provision on divorce (previously known as ancillary relief) and family justice.
Emma's full profile is available on the Law School website.