View all news
Specialists across Africa given plant-health training boost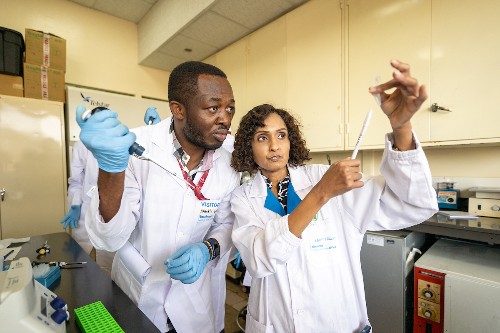 Press release issued: 10 March 2023
The University of Bristol's CONNECTED Network has trained 21 plant scientists from 11 countries in 'Vector and Virus Diagnostics' in Nairobi, Kenya.
This course gave participants specialist knowledge enabling them to identify which virus is devastating a plant and which insect (vector) is carrying it.
The majority of attendees were representatives of their country's National Agricultural Research Institute or System (NARS), governmental organisations which conduct research to improve agriculture.
As part of a joint programme co-delivered by Biosciences for Africa at the B4A-ILRI Hub, the course was taught by plant virology and entomology experts from both the UK and Kenya.
As well as building strong international partnerships, CONNECTED and the University of Bristol are aiming to create real impacts on plant health internationally. The aim is to upskill many more lab analysts, researchers, plant health inspectors and officers within their institute, embedding the interdisciplinary knowledge within the agricultural systems of multiple African countries and impacting on policy, regulation and practice.
Professor Jeremy Tavaré, Dean of the Faculty of Life Sciences at the University of Bristol, said: "We are delighted to be working in partnership with the B4A-ILRI Hub to develop brand new connections with so many African agricultural organisations, combining our world-class plant health research with their capacity building expertise to develop international clusters of excellence in vector-borne plant disease."
Professor Neil Boonham, based at Newcastle University, is a Director of CONNECTED and helped develop and deliver the course. He said: "Meeting delegates from so many countries and sharing knowledge and experience has been such a joy, as has working with the team at B4A-ILRI. This course is all about improving efficiency in diagnosing plant diseases and identifying their vectors, equipping participants with skills that they can take home and apply to the crops they are working on in their own institutes."
Dr Cathrine Ziyomo, Business Development Specialist at Biosciences for Africa (B4A) International Livestock Research Institute, said: "B4A are delighted to be working with CONNECTED to jointly deliver this molecular diagnostic training course. Together we are creating an environment in which researchers from across Africa can support each other in learning the latest techniques, which they can then use in their own countries."
This work is one of many projects funded by a £500,000 grant awarded to CONNECTED by UKRI International in 2022, as part of the Global Challenges Research Fund (GCRF).
The CONNECTED Network's mission is to tackle insect-spread plant diseases globally. It was founded in 2017, grant funded by the UK government Global Challenges Research Fund through the Biotechnology and Biological Sciences Research Council (BBSRC). It is led by Professor Gary Foster (recently retired) and Dr Andy Bailey at the University of Bristol and Professor Neil Boonham at Newcastle University. It currently has more than 1500 members from 88 countries.