View all news
Biggest leap in identified lung health genes paves way for personalised risk score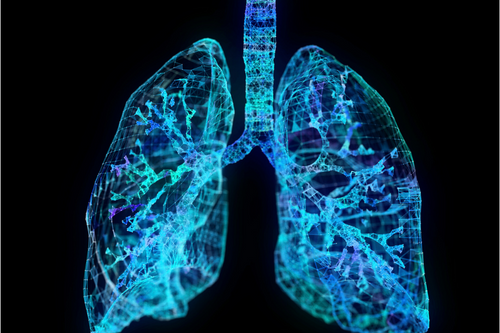 Press release issued: 13 March 2023
A new Nature Genetics study finds over 500 genes linked to lung health, providing new targets for potential therapeutics. The Universities of Leicester and Nottingham led the global study that enables the creation of personalsed risk scores for lung health. Genomes from over half-a-million participants worldwide were analysed, including from Bristol's Children of the 90s study, making it the largest and most ethnically-diverse study of its kind
Over 500 new genes have been linked to lung function for the first time, allowing scientists to better understand lung disease.
The study, led by the University of Leicester and University of Nottingham, is the largest and most diverse study of its kind. The findings pave the way for potential new treatments to tackle conditions such as COPD and asthma, and highlight existing drugs that could potentially be repurposed at speed.
Published today (13 March) in the journal Nature Genetics, the study analyses genome data from 580,869 participants worldwide to build the most confident picture yet of how our genes affect our lung health.
Lung function tests analyse how well the lungs move air in and out of the body. In conditions such as asthma and COPD this is made more difficult by narrowing of the airways. Chronic respiratory disease, such as COPD, is the third leading cause of death globally.
Establishing which genes are involved in lung function is important as it is these genes that encode the proteins that medicines target to prevent or treat disease. Using a new approach that brings together big data relating to genetic variation, lung health and the influences of genetic variation on gene function, this study has been able to identify 559 new genes implicated in lung function with greater confidence than ever before.
It is a huge boost to scientists as they seek to understand which medicines may help improve lung health, and also which medicines might make lung health worse.
Principal Investigator on the study, Professor Martin Tobin from the University of Leicester Department of Population Health Sciences, said: "This is a big leap in terms of the size and the ethnic diversity of the populations that we've been able to study before and it's a huge step in the number of associated genetic variants that we've discovered.
"Our genetic research findings can be used to generate individual risk scores that could personalise medicine. At this stage the risk scores we developed form important tools for further research, but in the future these could help to select which drugs might be most effective for individual patients, and which drugs should be avoided."
The study combined genomic information from multiple research studies worldwide as part of the SpiroMeta consortium and the CHARGE consortium. This provided the researchers with the most ethnically diverse population for this type of study to make their analysis. The study was funded by Wellcome and supported by the National Institute of Health and Care Research (NIHR) Biomedical Research Centres in Leicester and Nottingham.
The University of Nottingham lead Professor Ian Hall commented: "Inclusion of people from diverse backgrounds in genetics research is important to make sure that all groups of people benefit from the advances in prevention and treatment that such research can bring. At present though, the majority of people in genetic studies are from white backgrounds. In the future, we urgently need more studies in different ethnic groups to provide the necessary sample sizes to really take the field forward."
The discoveries come as the researchers begin an £8.8 million project funded by Wellcome aiming to identify drug targets and accelerate the process of developing new treatments for lung conditions by combining expertise in data science, genomics and cutting-edge laboratory techniques in a 'one-stop shop'.
Professor Tobin adds: "Bringing teams from the Universities of Leicester, Nottingham and Cambridge with expertise spanning genomics, data science and cell biology into a single project means that we can speed up the steps leading to new treatments. This Wellcome funding also means that we will be able to improve the diversity of genomic studies in the UK, such as the EXCEED study, and boost genomic studies of lung disease in under-served populations worldwide."
Further information
Press release shared with thanks to the University of Leicester
Paper
'Multi-ancestry genome-wide association analyses improve resolution of genes and pathways influencing lung function and chronic obstructive pulmonary disease risk' by Matin Tobin et al, Nature Genetics, DOI: 10.1038/s41588-023-01314-0
For further information, please contact the University of Leicester press office on 0116 252 2160 or press@le.ac.uk
About the University of Leicester
The University of Leicester is led by discovery and innovation – an international centre for excellence renowned for research, teaching and broadening access to higher education. It is among the Top 30 universities in the Times Higher Education (THE)'s Research Excellence Framework (REF) 2021 rankings with 89% of research assessed as world-leading or internationally excellent, with wide-ranging impacts on society, health, culture, and the environment. The University is home to more than 20,000 students and approximately 4,000 staff.
The NIHR Leicester Biomedical Research Centre
The National Institute for Health and Care Research (NIHR) Leicester Biomedical Research Centre (BRC) is a partnership between University Hospitals of Leicester NHS Trust, the University of Leicester and Loughborough University. It is funded by the National Institute for Health and Care Research (NIHR).
The NIHR Leicester BRC undertakes translational clinical research in priority areas of high disease burden and clinical need. These include cardiovascular disease, respiratory disease, and lifestyle, obesity and physical activity. There is also a cross-cutting theme for precision medicine. The BRC harnesses the power of experimental science to explore and develop ways to help prevent and treat chronic disease. It brings together 70 highly skilled researchers, 30 of which are at the forefront of clinical services delivery. By having scientists working closely with clinicians, the BRC can deliver research that is relevant to patients and the professionals who treat them. www.leicesterbrc.nihr.ac.uk
About the NIHR Nottingham Biomedical Research Centre
The NIHR Nottingham Biomedical Research Centre is translating research into breakthrough treatments, new technologies and advanced medicines for common illnesses like asthma and arthritis.
Our research is led by internationally-renowned clinicians, scientists and academics working together to improve the health of our patients and our communities.
Our expertise in respiratory medicine and MRI is at the forefront of COVID-19 research for effective treatments and vaccines, as well as contributing to the world's understanding of Coronavirus.
The NIHR Nottingham Biomedical Research Centre is funded by the National Institute for Health and Care Research and is a partnership between Nottingham University Hospitals NHS Trust (NUH) and the University of Nottingham, working with Nottinghamshire Healthcare NHS Foundation Trust and NHS and academic partners across the East Midlands. It is based at NUH.
The mission of the National Institute for Health and Care Research (NIHR) is to improve the health and wealth of the nation through research. We do this by:
Funding high quality, timely research that benefits the NHS, public health and social care;
Investing in world-class expertise, facilities and a skilled delivery workforce to translate discoveries into improved treatments and services;
Partnering with patients, service users, carers and communities, improving the relevance, quality and impact of our research;
Attracting, training and supporting the best researchers to tackle complex health and social care challenges;
Collaborating with other public funders, charities and industry to help shape a cohesive and globally competitive research system;
Funding applied global health research and training to meet the needs of the poorest people in low and middle income countries.
NIHR is funded by the Department of Health and Social Care. Its work in low and middle income countries is principally funded through UK Aid from the UK government.