Research
The Geochemistry group uses chemical techniques to understand natural processes on a range of temporal and spatial scales, from nano-scale pre-solar grains in meteorites, to the biogeochemistry of the modern oceans, to the large-scale chemical structure and formation of planets. The remit extends from interactions between the core and mantle to the atmosphere, cryosphere and hydrosphere with implications for Earth's climate. We further apply these skills to understanding other terrestrial planets and the evolution of the solar system.
A major theme is the use of isotopic tracers to understand the nature and chronology of cycling between the major reservoirs of the Earth.
Here are a few of the areas which member of our group are actively working on:
Changing polar regions
The high-latitude regions are experiencing some of the most rapid changes observed in recent decades: polar temperatures are rising twice as fast as the global mean and there are concerns about the impact of sea-ice and glacier retreat on global oceans and climate. The high-latitude North Atlantic is also a key region for ecologically and economically important natural resources such as fisheries. How these resources will change in the future depends strongly on the response of marine biogeochemical cycling of essential nutrients to increasing anthropogenic stress.
Diatoms are photosynthetic algae that are responsible for nearly half of the export of carbon from the sea surface to the seafloor, and they are a sensitive indication of the state of nutrient cycling. Diatoms are one of many organisms that precipitate biogenic opal, an amorphous glass made of silica, to form protective skeletons – this means that they need dissolved silicon (Si) in the form of silicic acid to grow. Project ICY-LAB (Isotope CYcling in the LABrador Sea) aims to probe the subarctic silicon cycle under changing environmental conditions, and its links with both carbon and nutrient cycling, using a combination of high precision silicon isotope analyses, other geochemical and physical oceanographic measurements. Project ICY-LAB is funded by the European Research Council.
Coastal Greenland, the location of ICY-LAB field studies
The deep sea: exploration and climate links
The oceans absorb and release heat and carbon – maintaining our climate system. However, much of the deep sea remains unexplored, with unanswered questions about how changes in the oceans may impact our future climate. One way to address these questions is to look back into the past, when the planet was very different from the modern day. An excellent example is the transition from the last glaciation, some 20,000 years ago when sealevel and carbon dioxide were rising, glaciers melting and the planet warmed by about 3C. We are using a huge range of field and geochemical approaches to investigate how this transition occurred.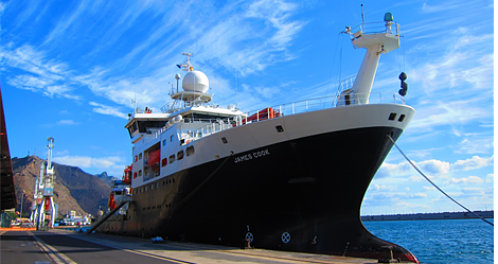 Our research team regularly undertakes major research expeditions to explore the deep ocean, mapping and imaging the seafloor, and collecting samples needed to look at ocean climate interactions. In particular, we have focussed on deep-sea coral ecosystems. Deep sea corals are found all across the global ocean, and their skeletons form incredible archives of the past history of change. We specialise in using uranium series isotopes to document precise ages for each coral, as well as to look at processes such as the contribution of weathering to ocean chemical budgets. Together with trace metal and isotopic approaches we are able to use deep sea corals (and nearby sediment cores) to provide new data to help us understand the role of the oceans in controlling our climate.
You can watch a short video about our research.
Evolution of the early solar system
Meteorites carry a record of the processes that occurred in the formation of our solar system. We analyse the isotopic signatures of different meteorites to gain insight into events and their timing from the collapse of the nebula to the grow of the major terrestrial planets. This includes:
analysing fingerprints of different nuclear material input into our solar system from nearby exploding stars, which inform on the 'birth environment' of our solar system.
examining how such signals are mixed within an accreting dust disk and potential power the melting of planetary bodies to make crust and core.
investigating how the violent process of collisional growth shapes both bulk and surface characteristics of planets, in collaboration with colleagues from Physics
High precision mass-spectrometry is key to this work and we put to use the wide range of bulk and in situ techniques possible using the cutting edge instrumentation in our labs.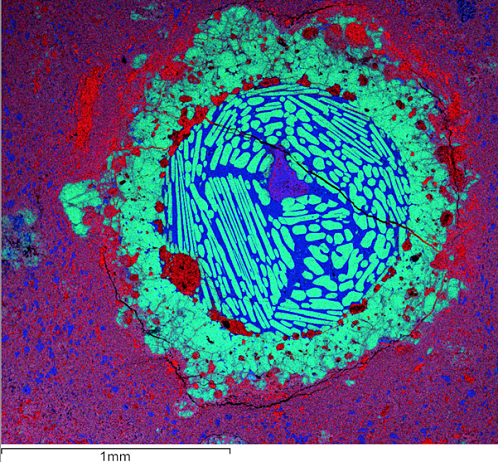 Scanning electron microscope image of a chondrule, with false colours indicating compositional differences (Green-Mg, Blue-Si and Red-Fe); the chondrule is the circular, dominantly green and blue object sitting on fine grained matrix (purple background). Chondrules are quenched silicate melt droplets (green crystals of olivine in blue glass) that are the dominant constituent of most primitive meteorites. Chondrules can be dated and provide a key chronology of events in the early solar system.
Monitoring radiation in the environment around Fukushima, Japan
Mapping the complex spatial pattern of low-level radioactive contamination, particularly in coastal and fluvial settings, is of crucial importance for safety assessment for nuclear new build, effective decommissioning of nuclear facilities, and post-accident monitoring. Traditionally, mapping in this field relies on counting methods, which do not provide the sensitivity and specificity required to attribute source of material at ultra-trace levels and cannot provide the necessary confidence to support effective decision making. We are developing chemical separation and multi-collector mass spectrometry protocols to focus on low abundance isotopes of Pu, Cs, U and Pb for challenging environmental samples such as coastal sediments and organic materials.
Among our high-profile case studies is work dedicated to the mapping of post-accident contamination. Following the nuclear disaster in Fukushima, our research team joined forces with colleagues at the South West Nuclear Hub to assess the spatial pattern of radioactivity in the fallout zone. Autonomous unmanned aerial vehicles with miniaturised radiation detectors were used to produce high-resolution maps of contamination. Our team then developed a unique combination of nano-scale synchrotron analysis and high-precision mass-spectrometry (Pu, Cs and U) to establish the specific reactor from which highly radioactive particulates had originated.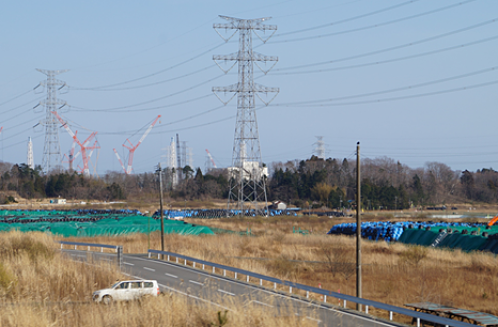 Millions of cubic meters of radioactive soil are stored in the vicinity of the Fukushima Daiichi nuclear power plant. We are working with the Japanese Atomic Energy Agency to characterise particulate matter with high radioactivity that has been identified in the fallout. (Photo: David Richards)