About the Department of Theatre
Welcome to Bristol Theatre
Founded in 1947, the University of Bristol was the first in the UK to offer a degree in drama. To study at our Theatre Department is to be part of the home of Theatre Studies in the UK, working in one of the most vibrant, beautiful, and creative cities in the country. Bristol was named the best place to live in the UK by the Sunday Times in 2017.
World-leading experts
Study with innovative and enthusiastic pioneers in everything from Shakespeare to contemporary performance practices. Working between the theatre, the classroom, and the city, learn how to bring history to life through performance, engage your audiences, and use theatre as a powerful means of interrogating our most pressing social issues. For us, theory and practice are always intertwined.
Industry experience
Just a short stroll from the department, down one of Bristol's famous cobbled streets, is the beautiful Georgian theatre Bristol Old Vic. Students benefit from an exclusive partnership with this historic theatre, learning about marketing, management, programming, and artistic development from its professionals – and even getting opportunities to make performances there, too. The Bristol Old Vic is just one of many relationships with leading Bristol arts organisations, including Watershed, Travelling Light, Tobacco Factory, Wyldwood, and more.
Join the Family
With alumni including Simon Pegg, David Walliams, Mark Ravenhill, Sarah Kane, Laura Wade, Pearl Mackie, and Royal Shakespeare Company artistic director Gregory Doran, our students are the theatre-makers, performers, and scholars of the future. With employers increasingly looking for innovative thinkers, collaborative creatives, and persuasive communicators, theatre graduates are in demand. You will find Bristol Theatre alumni throughout the creative industries, with successful careers as directors, writers, producers, stage-managers, designers, educators, and entrepreneurs.
Our Home
At the heart of our department, the Wickham Theatre is one of the country's best-equipped university performance venues. You will also become real historians, working in the University of Bristol Theatre Collection – the second-largest theatre museum and archive in the UK. These amazing resources house our close-knit community where staff know you by name. As active researchers and practitioners, we help you make the most of your time here in the department and in our inspiring city.
How we are structured
The Department of Theatre is one of five subject areas within the School of Arts, which itself forms part of the University's Faculty of Arts.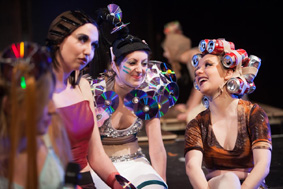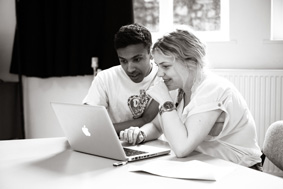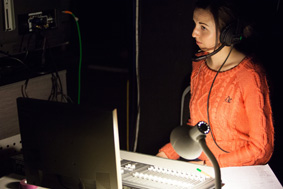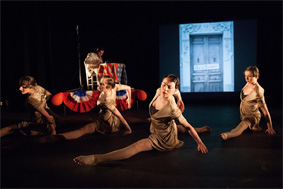 Who we are
Find our more about the academic community that makes up the Department of Theatre.