Generation Snowstorm – a Social Change Summer School as a mental health intervention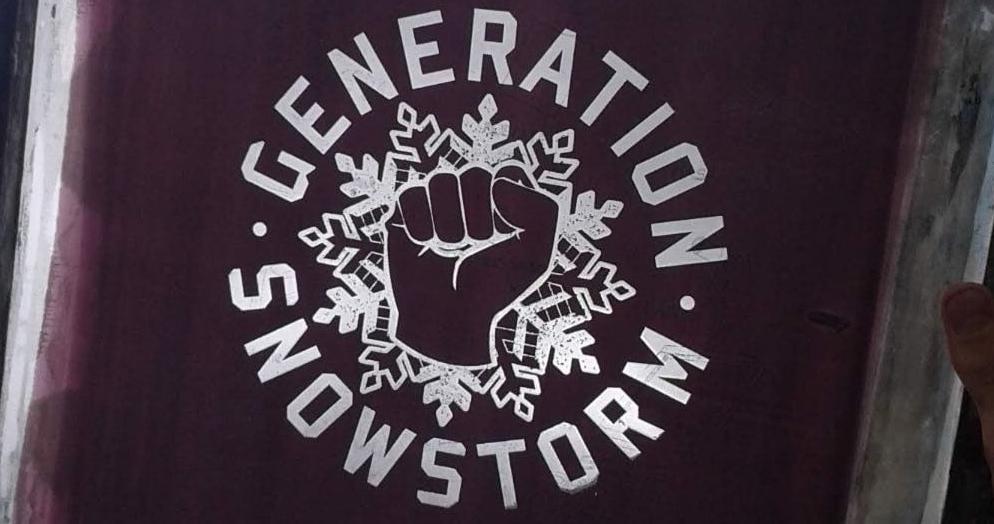 Off The Record (OTR) Bristol is an innovative young people's mental health charity with a focus on engaging young people in service design and delivery. Over 2017-18 Dr Nathan Eisenstadt collaborated with OTR on a Knowledge Exchange project funded by Bristol's ESRC Impact Acceleration Account.
The KE project was to design and deliver a Social Change Summer School as a mental health intervention, based on the premise that personal distress is often a reasonable response to wider systemic crises and that action for a better world is sometimes the best medicine.
Dr Nathan Eisenstadt's research and practice in personal sustainability for people engaged in social movements fit well with Off The Record (OTR)'s approach to working with young people: both steer away from a focus on the individual as the problem (often the current approach), towards a collectivist, strengths-based approach.
Eisenstadt and Charlotte Randomly at OTR, with Knowledge Exchange Fellow Yaz Brien, won funding from the University's ESRC Impact Acceleration Account (IAA). They co-designed and delivered an experimental, intensive Summer School for young people who had accessed OTR. Many of the participants had reported that the mental health interventions they had received previously centred on individual changes they should make, while the measurement methods for assessing progress/change often 'made them feel worse' and/or were pathologizing. Instead, Generation Snowstorm centred on why and how to cultivate social and ecological justice as a mode of radical self-care.
Together the collaborators and the young people co-designed the course format, publicity and branding, the best methods of participant recruitment and the desired outcomes.
Generation Snowstorm, as the Summer School course became known, drew together radical educational models. 'Content delivery' included participatory activities, drawing on the histories and practices of local and international social movements with examples of tactics, strategies and skills for making change. A wide variety of locations and external contributors provided opportunities to see different forms of activism in practice and helped individuals to identify issues or activism they wanted to get involved in. Meeting the organisers, asking questions and connecting with these groups also increased their confidence and transferable skills, and gave them a sense of agency to intervene in the social world.
This was coupled with a deeply reflective dimension, drawing on ecopsychology and the work of Joanna Macy and Molly Brown to cultivate a sense of connection with the 'natural' world that many activists seek to protect. Activism was framed not as the duty of the individual for the world – but as an act of self-care with the world. Finally, the course supported participants in moving forward, reflecting on what they had learnt and establishing mechanisms to support one another: OTR were particularly interested in what participants would need to know in order to do this and what needed to be put in place to enable it.
Asked whether they would recommend the course to a friend, one participant responded "Absolutely! I would say the course creates a space of openness, love [and] support, allows you to understand and accept your emotions, reframes the way you look at mental health, provides you with a vision for more fulfilling societies and communities, provides you with the tools [and] first hand experiences of building healthy relationships with others, [and] gives you concrete tools to start affecting social change and creating activism".
Since the course ended, the 2018 GenSnow participants have:
presented at a two conferences
run a show on Ujima Radio
run sessions with OTR's youth-led social action project Mentality
and written on activism and self-care in the Bristol Guide to Local Living for all new Bristol undergraduates.
In addition to the Summer School and course tool-kit, the academics also evaluated the project, trained peer facilitators to deliver the some of the course content and ensure its sustainability beyond the IAA funding, and ran workshops with key stakeholders at OTR (co-facilitated by the course participants) on how learning from this experiment could inform practice within and beyond OTR. They also presented to mental health practitioners and to representatives of the Kings Fund and Big Lottery. Though not in the initial project plan, Eisenstadt also created a Generation Snowstorm website.
Eisenstadt commented "the project exceeded our hopes in terms of the self-reported impact on the young people involved…. This is evidenced by their participation in the full course…and by their continued participation in dissemination activities since [it] ended. ….it shows there is appetite for more of this work".
The key message of the project – that mental distress is rooted in no small part in social injustices, and that social justice activism can be an appropriate response – has become part of OTR's discourse on mental health, evidenced in their new residential course and use of Generation Snowstorm in a major Nesta Bid.
Karen Black, CEO OTR Bristol reported that "Being involved with the project brought much learning and thought to OTR.... It helped us further understand the importance of peer relationships and community to enhance a sense of belonging in young people and the connections that they make with their environment and the influence that they can have within it. In terms of tangible measures that OTR will utilise in the future…firstly, the importance of outcomes in relation to what we are aiming for, primarily understanding this from the perspective of the young person as informed by the project they are engaged with…secondly we are redesigning our Mentality Project (Participation and Social Action) to be more in line with Gen Snow principles…We are also considering whether to take the model away from OTR and offer [it] in traditional community settings".