View all news
Major new research study to improve antibiotic prescribing for urinary tract infections in primary care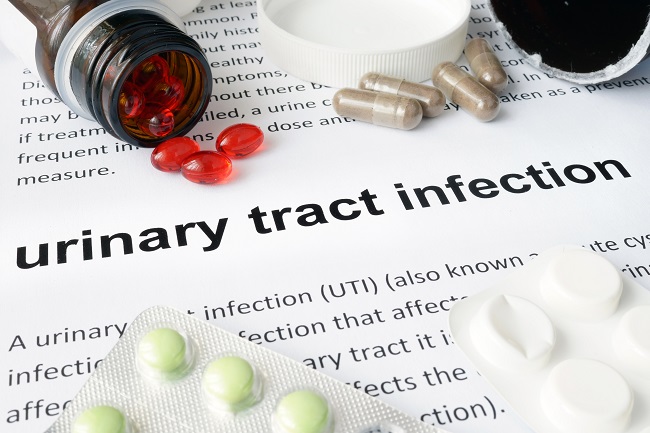 Press release issued: 18 July 2023
New research led by the University of Bristol aims to help GPs choose the best antibiotic for treating urinary tract infections (UTIs) and reducing antimicrobial resistance (AMR), thanks to a £3 million award by the National Institute for Health and Care Research (NIHR).
UTIs are the most common bacterial infection treated by the NHS, mostly using antibiotics prescribed in primary care. In some cases, antibiotic resistant UTIs are as high as 50%, resulting in longer, more severe infections, requiring multiple antibiotic courses.
During the five-year IPAP (Improving Primary Care Antibiotic Prescribing)-UTI programme, led by Bristol's Centre for Academic Primary Care (CAPC), the researchers, working with partners in the NHS and UK Health Security Agency, will develop a behaviour change intervention to encourage clinicians to prioritise different first-choice antibiotics and assess the impact on AMR.
The National Institute for Health and Clinical Excellence (NICE) has recently encouraged GPs and nurses to prescribe nitrofurantoin instead of trimethoprim, which are both recommended first-choice antibiotics for treating UTIs. Some studies suggest this has reduced trimethoprim AMR rates in some areas, but not everywhere, and worryingly may have led to higher AMR rates for other antibiotics.
Randomised controlled trials (RCTs) are considered the only reliable method to investigate the effectiveness of medicines. The programme will include three RCTs to be conducted in areas with specific AMR challenges, and will include the groups who are most affected by resistant UTIs. If race, age or financial situation of participants affect outcomes, this will be reported.
Some of the GP practices will be encouraged to use the alternative first-choice antibiotic (or cycling of two or more antibiotics) and the others will continue with their usual antibiotic. At the end, antibiotic use and AMR rates will be compared, with the expectation that any differences will be due to the intervention.
Dr Ashley Hammond, Research Fellow in Infectious Disease Epidemiology at CAPC and Programme Lead, said: "AMR is a serious threat to people's health. Unless we do something to stop it, bacteria will become resistant to increasing numbers of antibiotics until infections become untreatable. By 2050, some scientists predict more people will die from AMR infections than cancer.
"Our research programme aims to address one of the most common infections treated in primary care, where the gains for individuals, the NHS and wider public health of improved antibiotic prescribing and reduced antimicrobial resistance could be great."
Alastair Hay, a GP and Professor of Primary Care at CAPC, and Senior Programme Co-Lead, added: "The robust design of our research programme and our commitment to ensuring local area and population differences are taken into account means that we are confident that our programme will deliver reliable results that can be used to guide both policy and practice in the UK."
Professor Susan Hopkins, Chief Medical Advisor, UK Health Security Agency, said: "Infections caused by antibiotic resistant bacteria are killing thousands of people every year in this country and globally, as well as having a huge economic impact. Urinary tract infections are a key driver of serious antibiotic resistant infections, so by better understanding prescribing patterns for these infections and implementing trials in the community we can implement new ways to drive down resistance and give patients the right treatment at the right time."
Elizabeth Beech MBE, NHS England Regional Antimicrobial Stewardship Lead supports this research focus. She said: "Urinary tract infections are very common, particularly in women who often experience UTI more than once, increasing the risk of antibiotic resistant infection. Ensuring UTI can be successfully treated quickly really matters. This research will increase our understanding of how to do this in clinical practice."
Further information
About the Centre for Academic Primary Care (CAPC)
The Centre for Academic Primary Care (CAPC) at the University of Bristol is a leading centre for primary care research in the UK, one of nine forming the NIHR School for Primary Care Research. It sits within Bristol Medical School, an internationally recognised centre of excellence for population health research and teaching.
Follow on Twitter: @capcbristol
About the National Institute for Health and Care Research (NIHR)
The mission of the National Institute for Health and Care Research (NIHR) is to improve the health and wealth of the nation through research. We do this by:
Funding high quality, timely research that benefits the NHS, public health and social care;
Investing in world-class expertise, facilities and a skilled delivery workforce to translate discoveries into improved treatments and services;
Partnering with patients, service users, carers and communities, improving the relevance, quality and impact of our research;
Attracting, training and supporting the best researchers to tackle complex health and social care challenges;
Collaborating with other public funders, charities and industry to help shape a cohesive and globally competitive research system;
Funding applied global health research and training to meet the needs of the poorest people in low and middle income countries.
NIHR is funded by the Department of Health and Social Care. Its work in low and middle income countries is principally funded through UK Aid from the UK government.
The NIHR is the research partner of the NHS, public health and social care.