View all news
Video captures the magic and meaning of Good Grief Weston – A Festival of Love and Loss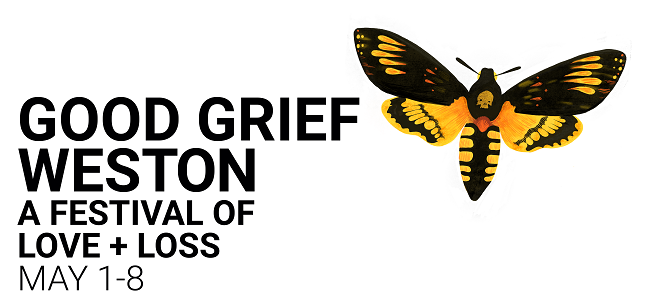 20 July 2023
From 1 to 8 May 2023, Good Grief Weston filled the seaside town of Weston-super-Mare with over thirty workshops, performances and grassroot community activities which aimed to open up conversations around death and bereavement.
Created by filmmaker Paul Collins, a new video captures key moments from the festival's diverse programme of events, including music performances, a large scale community art project, poster campaign, and synchronised swimming extravaganza. There are also interviews with contributors and participants, who reflect on their experiences of grief and what the festival meant to them.
Dr Lucy Selman, Founder of the Good Grief Festival and Associate Professor at the Centre for Academic Primary Care and Palliative and End of Life Care Research Group at the University of Bristol, shares her team's vision for a festival which would bring grief out into the open, encourage people to talk, and provide opportunities to remember those who have died. She explains that the wider project united people from across Weston – including people working in charities, health and social care, and the University of Bristol – to explore the excellent work already being done, and what we can all do to improve things.
Arts and culture were at the centre of many festival events. Artist contributors Ann O'Malley ('Grief Kid' illustrator) and Jayne Wright (visual artist) describe how creative visual activities enable us to express feelings and start conversations, and a participant shares their own experiences.
In the video, Helen Wheelock from Create Together describes how Good Grief Weston's Forget-Me-Not project invited community members to dedicate one of 800 flowers, made from plastic destined for landfill, to someone or something they loved and lost, allowing them to tell and commemorate their stories.
We also hear from musicians Kathryn Williams (singer-songwriter) and Samir Savant (CEO of St George's Bristol and member of the Fitzhardinge Consort), who both performed at the festival; they talk about how music helps them access and process their emotions, providing the space to feel difficult feelings and connect to others. Carly Attridge (The Loss Project) reflects on running the Grief Rave dance event with Annie Nicholson (The Fandangoe Kid), considering the power of bringing something personal into a communal space and sharing the experience as part of a collective. A participant comments that the programme has brought people together to talk about their grief and support each other.
Other contributors discuss the need to engage with the realities of grief and bereavement. Liz Rothschild (celebrant and actor) and Anna Ledgard (end-of-life doula and artist) reflect on why we can be reluctant to talk about death and why it is so important that we do. Speaking in an interview with Dr Lesel Dawson, poet Michael Rosen agreed. He explains that he developed a range of strategies – from writing to physical movement – which helped him 'deal with' the death of his son Eddie, but also could not bury with had happened: ultimately, 'you have to engage with this thing'.
The video is framed by extracts of Green Funeral Company founder Rupert Callender's moving speech at our finale event. He reminds us that 'without grief, there is no joy, no connection, no freedom from the isolation of our individuality. Without loss, we pass through life empty-handed, not shedding, but not receiving either. We grieve not just because we shared so much as we move though this life, but because we are connected to each other through threads of the heart. We are each other'.
Good Grief Weston was produced by Culture Weston in collaboration with the University of Bristol and the Weston-super-Mare Community Network. It was funded by the Arts and Humanities Research Council (AHRC), Alliance Homes, Arts Council England and BBC Children in Need.
Watch the video (full version, 7 mins)
Good Grief Weston - Full Version from Culture Weston on Vimeo.
Watch the video (short version)
‌