View all news
Hard Evidence goes on tour and secures evaluation funding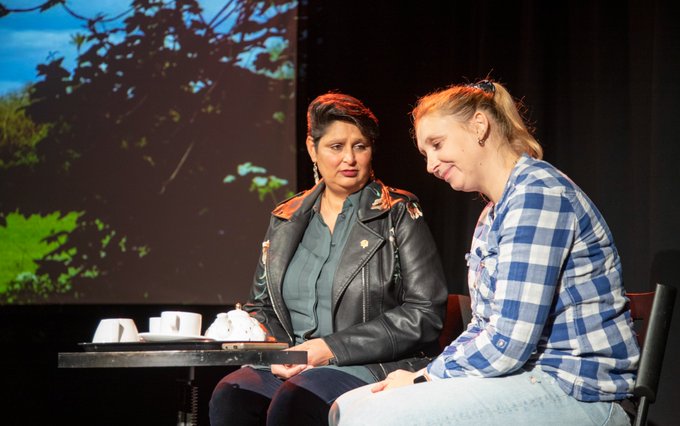 20 June 2022
Hard Evidence, a performance piece about two women affected by domestic abuse, their journey of mutual support, newfound confidence, and the empowering effect of public involvement in research is going on tour in Bristol. It has also secured evaluation funding from the National Institute for Health and Care Research Bristol Biomedical Research Centre (NIHR Bristol BRC) Director's Fund.
Original performances of the play, developed by Shass Blake and Alison Prince, took place in November 2021. Both women have lived experience of domestic abuse and contributed to the coMforT (Mindfulness for Trauma) study led by Dr Natalia Lewis at the Centre for Academic Primary Care.
The characters and storyline were developed in collaboration with Ingrid Jones at Acta Theatre to show how taking part in research empowered two women who have experienced domestic abuse to support each other and move on with their lives.
Hard Evidence is now going on tour in Bristol. The play will be performed at two local venues in July: Saturday 2 July at The Withywood Centre and Friday 8 July at The Greenway Centre.
Ingrid Jones, Associate Director at Acta Theatre said: "After performing the show to full audiences at the Acta Centre last year, we are keen to take it into other communities in Bristol.
"It is now more important than ever to speak about domestic violence and encourage others to seek support. Reported cases of domestic violence and abuse soared during lockdown. Women still live in fear of violence. Two a week are killed by their partners in the UK.
"The Hard Evidence tour follows the 'Enough – be part of the change' summit organised by Avon and Somerset Police and the play aims to help create a world in which a baby girl born today can live without fear of violence by the time she reaches 18.
"We hope Hard Evidence can play its part in making change happen."
In addition to the tour, the project has also secured funding to evaluate how the play was produced and how it impacted those bringing it to the stage and those watching it. The Hard Evidence evaluation team is made up of Research Associate Cat Papastavrou-Brooks, Dr Natalia Lewis, and Dr Noreen Hopewell- Kelly.
Cat will observe live performances, lead group discussions and interview those involved in producing the play and those who come to watch it.
Dr Natalia Lewis said: "Hard Evidence was truly the result of co-production between Alison and Shass, Acta Theatre, coMforT and BRC researchers.
"The whole process was built on trust and the relationships we developed throughout the coMforT study. It meant we felt comfortable sharing own views and experiences during the process of creating the play.
"We wanted Hard Evidence to challenge the stereotype of women who have experienced domestic abuse as 'damaged' and 'vulnerable'. Alison and Shass created resourceful, compassionate, and supportive characters while the play showed how taking part in research helped two women to grow and overcome adversity.
"Our story shows that peer support and engagement in research can have an empowering effect — one person becomes involved, engages the other and through this they grow together."
Several members of the team behind Hard Evidence will also be presenting their work at the Society for Academic Primary Care Annual Scientific Meeting in July.
Dr Noreen Hopewell-Kelly, Research Fellow, Patient and Public Involvement lead at Bristol BRC said: "This project was amazing from a Patient and Public Involvement point of view. I think it really showed us how empowering it can be to take part in research, and we are very excited to take this message to other Bristol communities.
"Evaluating the impact of Hard Evidence on those who were involved in developing it and those who came to see it will potentially open doors for more of these types of collaborations and let us explore the mechanisms behind this impact. We hope that it will also help develop a method for public engagement in research and show us how this can be applied to other BRC projects through, for example, the development of an applicable framework.
"Presenting at the Society for Academic Primary Care conference is a fabulous opportunity for us because it allows us to take our work to an entirely different audience."
Shass Blake, contributor and creator of Hard Evidence: "I think taking Hard Evidence out into the community is a positive move forward in how issues of domestic violence and abuse are highlighted and spoken about."
The Hard Evidence Tour will run for two live performances:
Saturday 2 July 3.00pm – The Withywood Centre
Further information
About the Centre for Academic Primary Care, University of Bristol
The Centre for Academic Primary Care (CAPC) at the University of Bristol is a leading centre for primary care research in the UK, one of nine forming the NIHR School for Primary Care Research. It sits within Bristol Medical School, an internationally recognised centre of excellence for population health research and teaching. Follow us on Twitter: @capcbristol.
About the National Institute for Health and Care Research (NIHR)
The mission of the National Institute for Health and Care Research (NIHR) is to improve the health and wealth of the nation through research. We do this by:
Funding high quality, timely research that benefits the NHS, public health and social care;
Investing in world-class expertise, facilities and a skilled delivery workforce to translate discoveries into improved treatments and services;
Partnering with patients, service users, carers and communities, improving the relevance, quality and impact of our research;
Attracting, training and supporting the best researchers to tackle complex health and social care challenges;
Collaborating with other public funders, charities and industry to help shape a cohesive and globally competitive research system;
Funding applied global health research and training to meet the needs of the poorest people in low and middle income countries.
NIHR is funded by the Department of Health and Social Care. Its work in low and middle income countries is principally funded through UK Aid from the UK government.