View all news
Bristol conference showcases the best of primary health care research in the South West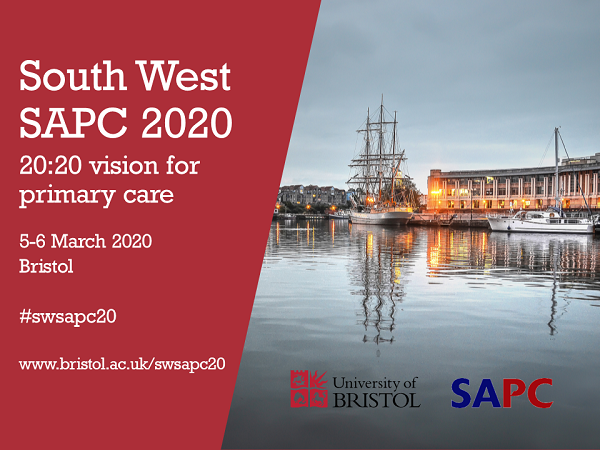 5 March 2020
The University of Bristol's Centre for Academic Primary Care is hosting the 2020 South West Society for Academic Primary Care (SAPC) conference in Bristol today and tomorrow (5-6 March). The conference is being held in The Bristol Hotel on Bristol's harbourside. It is the annual gathering of primary health care researchers from across the South West region and Wales.
Over 190 GPs, health researchers, medical students and patients involved in research will gather to take part in a packed programme of presentations. These will cover topics from digital health, IT and communication to mental health, domestic violence, multimorbidity, prescribing and public health - all under the umbrella theme of '20:20 vision for primary care'.
Keynote speakers include Professor Sir Sam Everington, a GP and Vice President of the British Medical Association, Dr Helen Atherton, Associate Professor of Primary Care Research and Digital Health Lead at Warwick Medical School, and Professor David Kessler, a trained psychiatrist and practising GP and Professor of Primary Care at the University of Bristol.
Dr Katrina Turner and Professor John Macleod, Joint Heads of the Centre for Academic Primary Care, said: "Primary care is on the frontline of NHS services and primary care teams are under ever increasing pressures. Alongside these pressures primary care is experiencing significant changes in the way services are organised and delivered. This conference will give us an opportunity to reflect on how primary care will change and develop during the 2020s, and how this will affect the research we undertake in order to benefit patients and support GPs, nurses and other primary care professionals."
Professor Carolyn-Chew Graham, Professor of General Practice Research at Keele University and SAPC Chair, said: "The excellent keynote speakers and wide variety of presentations, posters and workshops on offer promise a lively showcase for some of the best primary care research, not just in the region but nationwide. I am particularly pleased that patients and members of the public involved in research, medical students, early career researchers and academic clinical fellows have all been encouraged to participate and contribute to the programme."
The conference dovetails with a 'sister' event at The Watershed that started on 4 March, the National Institute for Health Research (NIHR) School for Primary Care Research-sponsored National GP Academic Clinical Fellow conference, which brings together early career GP researchers from across the UK to share research, knowledge and skills.
Further information, including abstracts and a full programme for South West SAPC 2020 are available from: www.bristol.ac.uk/swsapc20. You can follow the conversation on Twitter using #swsapc20.
Further information
About the Centre for Academic Primary Care, University of Bristol
The Centre for Academic Primary Care (CAPC) at the University of Bristol is a leading centre for primary care research in the UK, one of nine forming the NIHR School for Primary Care Research. It sits within Bristol Medical School, an internationally recognised centre of excellence for population health research and teaching. Follow us on Twitter: @capcbristol.