View all news
60 events from Good Grief Festival now available to watch on demand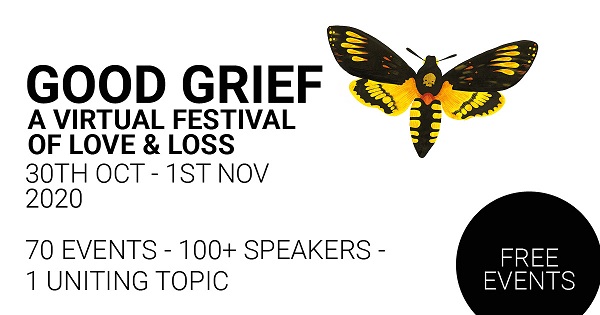 10 December 2020
In a year that has seen a national outpouring of grief, Good Grief Festival took place online in October, with 12,000 people tuning in to 60 events over three days. Funded by the Wellcome Trust, and supported by the University of Bristol and Cruse Bereavement Care, the festival's aim was to help people to better understand grief and loss, and engage with research and scholarship in this area, through a diverse programme of talks, webinars and workshops.
Sixty hours of recorded events from Good Grief Festival are now available to watch on-demand on The Grief Channel for a subscription fee of £20 for 12 months (doctors receive 20 CPD points from the Federation of the Royal College of Physicians).
Over 100 speakers took part in Good Grief Festival including Robert Webb (Peep Show, That Mitchell + Webb Look), Cariad Lloyd (GriefCast), Julia Samuel (This Too Shall Pass, Grief Works), chef and food writer Valentine Warner (The Consolation of Food), best-selling author Nikesh Shukla (The Good Immigrant, Brown Baby), BBC anthropologist Alice Roberts, illustrator Gary Andrews (Doodle-A-Day) and palliative care doctors Rachel Clarke (Dear Life: A Doctor's Story of Love and Loss) and Kathryn Mannix (With the End in Mind).
Good Grief is a collaboration between the university's Palliative and End of Life Care Research Group and Medical Humanities Grief Research Cluster, and partners from Bristol and across the UK.
Festival lead Dr Lucy Selman, Senior Research Fellow at the University of Bristol and member of the Centre for Academic Primary Care, commented: "At Good Grief we saw the power and potential of hundreds of speakers, organisers and supporters coming together with a common cause: bringing grief and bereavement out into the open. I'd like to thank everyone involved in making Good Grief happen, and everyone who attended - we were bowled-over by the scale of public engagement from around the world and the audience's feedback.
"I hope that by helping people learn more about grief and feel a sense of shared humanity, the festival brought some hope and solace to all those grieving at this really challenging time. We look forward to contributing to an ongoing public conversation on this important and universal topic."

Since the festival, Dr Selman and co-Principal Investigator Dr Emily Harrop (Cardiff University), have released interim findings from the first national survey of bereavement during the COVID-19 pandemic, funded by the Economic and Social Council. Their report highlights the exceptional challenges of bereavement during the current crisis. The survey remains open until 31 December 2020 to anyone bereaved in the UK, of any cause, since 16 March - please visit www.covidbereavement.com.
Over the coming months, Good Grief will build on the success of the festival, with a programme of new events for members of the public, clinicians and bereavement counsellors currently in development for The Grief Channel for 2021. Good Grief organisers are welcoming submissions and ideas from anyone who would like to be involved. In support of National Grief Awareness Week, the team has made 17 events from the festival free to view until 15 December 2020.
If you have been affected by grief, loss or bereavement, please see the resources available on the Good Grief website and for students and staff at the University of Bristol.
To subscribe to The Grief Channel for £20 visit www.grief-channel.com. To suggest an event email programme@goodgrieffest.com.
Further information
Good Grief is a partnership event led by the University of Bristol with charities, bereavement services and cultural venues including Cruse Bereavement Care, The Good Grief Trust, St Peter's Hospice, Creative Youth Network, Bristol Museum & Art Gallery, Arnos Vale cemetery, Off The Record, Winston's Wish, Watershed, Bath University, The Harbour, Bristol Black Carers, The Good Grief Project, Sue Ryder and Grief Encounter South West.

Background stats:
Since March 2020, there have been over 70,000 excess deaths in the UK (Office of National Statistics); this is in addition to approximately 300,000 deaths that occur every 6 months in the UK. Each death is associated with on average 5 close bereavements.
Only 25% of people in the UK feel supported following a death (Dying Matters Coalition, 2014) and <10% access professional support (Sue Ryder, 2019).
On average, people experience their first close bereavement aged 20 (Co-op funeralcare, 2018).