View all news
Good Grief Festival – health professionals invited to take part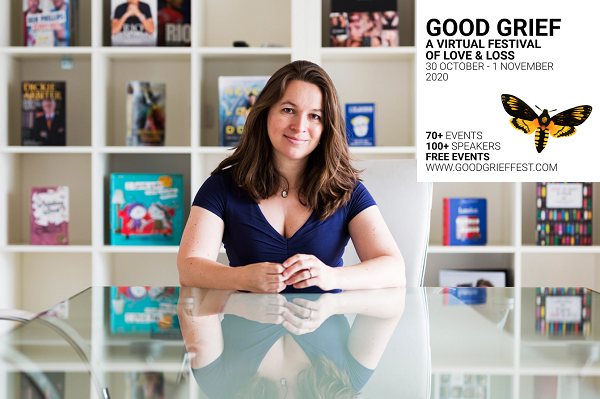 Press release issued: 12 October 2020
CPD credits available through the Federation of the Royal College of Physicians
We are living through a time of extraordinary grief – for the lives of loved ones lost and a way of life that may never fully return. How well equipped are we, as individuals and professionals, to cope with such pervasive grief? What do we know and understand about grief?
Good Grief – A Festival of Love and Loss (30 October to 1 November 2020, online) is the brainchild of Dr Lucy Selman, a health researcher at the Centre for Academic Primary Care and co-lead of the University of Bristol's Palliative and End of Life Care Research Group.
Originally planned as a week-long 'real-world' event to be held in Bristol in May this year, the festival has moved online, which, according to Dr Selman, has presented both challenges and opportunities. One of the opportunities is that the impressive line-up of over 100 speakers and 70 events can reach a much wider audience.
Dr Selman said: "The aim of the festival is to throw wide open our ideas about what grief is, how it affects us both individually and collectively, and to be creative about how we think about and respond to grief. We have a hugely diverse range of speakers – from experts on death, dying and bereavement, to writers, artists and performers who have explored in more personal and creative ways the different faces of grief and the myriad paths through it.
"Death, dying and grief can too often be viewed as a series of medical events. The Good Grief festival will explore personal, social and cultural meanings and invite new perspectives to help us deal with grief and loss.
"Health professionals are in a unique position to support people experiencing grief and many are at the sharp end of bereavement themselves at this time. The festival will empower everyone who takes part to talk openly about grief and think about the diverse ways it manifests and is experienced."
Speakers include palliative care doctors Rachel Clarke (Dear Life: A Doctor's Story of Love and Loss) and Kathryn Mannix (With the End in Mind), Robert Webb (Peep Show, That Mitchell + Webb Look), Cariad Lloyd (GriefCast), Julia Samuel (This Too Shall Pass, Grief Works), chef and food writer Valentine Warner (The Consolation of Food), best-selling author Nikesh Shukla (The Good Immigrant, Brown Baby), BBC anthropologist Alice Roberts, and illustrator Gary Andrews (Doodle-A-Day).
The festival incorporates a 'Grief School', which will examine grief and bereavement after suicide, childhood bereavement, stillbirth, substance misuse, pet loss and traumatic loss, grieving during Covid-19, or after diagnosis with a life-limiting illness, and more.
The workshop and webinar programme includes: Writing Memoir to Heal; Making Friends with Your Afterlife; Self Counselling Through Art; Poetry for Lost Loved Ones; Virginia Woolf and the Literature of Loss; Yoga to Release Grief; and a Grief Café facilitated by The Good Grief Trust.
Good Grief is a collaborative event led by the University of Bristol, funded by the Wellcome Trust, and supported by charity partner Cruse Bereavement Care.
The festival is free and open to all. Book now at www.goodgrieffest.com.
The Federation of the Royal College of Physicians of the United Kingdom has approved Good Grief festival for 20 category 1 (external) CPD credits, and archived access to this event for 20 external CPD points for four weeks after the event, application for approval beyond four weeks in progress.