View all news
University open day to attract 25,000 to city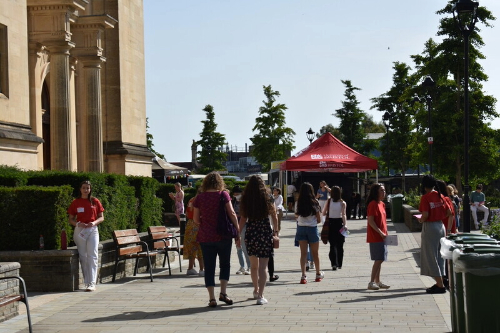 Press release issued: 5 September 2023
Up to 25,000 people will visit the University of Bristol on Saturday for its final undergraduate open day of the year.
Prospective students and their families will get a taste of the University's courses, student life and pastoral support from 9.30pm to 4pm.
Many will also be keen to tour its sports facilities and teaching spaces, and learn more about its Careers Service, scholarships and the 350 clubs and societies on offer through Bristol SU.
Students who have a disability, identify as LGBTQ+ or are from underrepresented backgrounds can find out about the University's specialist support.
For many it will also be their first experience of one of the world's best cities.
Meanwhile, pupils living in or near Bristol can check out the session 'Live local, learn local: studying at Bristol as a local or commuter student'.
Ten pop-up food stalls will offer everything from delicious burgers and mac & cheese to vegan tacos and Sri Lankan meals.
Local residents and businesses should expect a busier day in Bristol, particularly around the heart of the Clifton Campus: Tyndall Avenue, Woodland Road, Queens Road and the Triangle.
Prof Tansy Jessop, Pro Vice-Chancellor for Education and Students, said: "We love the buzz in Bristol during open days and can't wait to once more showcase the University and the city.
"As with our two previous open days earlier this year, Saturday will be a busier day than usual for local businesses."
On Saturday, Tyndall Avenue, Woodland Road and Priory Road will be closed to traffic to allow a shuttle bus services to operate. There will also be a one-way system from St Michael's Hill, along Tyndall Avenue, turning right onto Woodland Road and exiting at Tyndall's Park Road.
The number 72 will divert via Queens Avenue, Elmdale Road and Tyndall's Park Road in both directions. The U2 service will operate as usual.