View all news
Donate your spare apples and help make a proper Bristol cider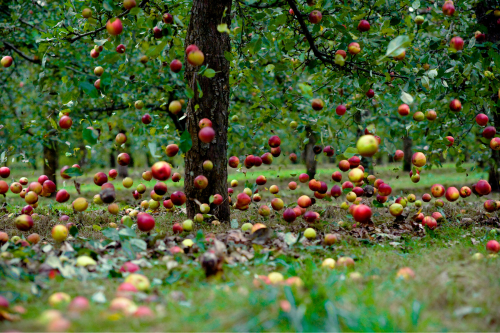 Press release issued: 29 September 2023
It is that time of year when apples are growing in abundance. To try and make the most of the season, reduce the wastage of garden apples, and bring the community together, the University of Bristol has teamed up with The Cider Box taprooms for Apple Day 2023.
If you have any spare apples you can donate, simply bring them along to the University of Bristol Botanic Gardens on Sunday 8 October between 11am and 3pm, and in return you can either get apple juice on the day, or wait for your apples to be turned into a bottle of authentic Bristolian cider which you can collect from The Cider Box in April 2024.
Those who donate apples will also be given free access to the University of Bristol Botanic Gardens on the day.
People unable to attend the event at the Apple Day event at the Botanic Gardens can still drop off their apples at one of three community hubs open between October 5 and 7.
Lockleaze Community Orchard on Constable Road will be accepting donations on Thursday 5 October and Friday 6 October between 9am and 3pm. Hillfields Community Garden will accept donations between 1pm and 2pm on Saturday 7 October, and Bramble Farm in Knowle, will also take donations on Saturday 7 October, between 11am and 1pm.
Andy Winfield, Senior Botanical Horticulturist at the University of Bristol Botanic Gardens, said: "This time of year people often find themselves with more apples than they know what to do with. We thought this would be a great opportunity to help bring the community together, reduce wastage, and enjoy a free Westcountry cider at the end.
"You can donate any apples which are suitable for pressing. Please pick the fruit as close as possible to the day you donate them. We'll only be able to use good quality fruit; it doesn't have to be perfect – the odd bruise is OK. If you wouldn't eat the apple, we can't use it."
If you donate 5kg of apples, this will be turned into 1 bottle of cider. You can donate as many apples as you like, although we will be giving a maximum of 5 bottles of cider per donation. All apple pomace will be donated to a local farm.
For more information visit: Apple day: help make a proper Bristol cider! – University of Bristol Botanic Garden