View all news
Novice student runner completes 7 marathons in 7 days for wild fish charity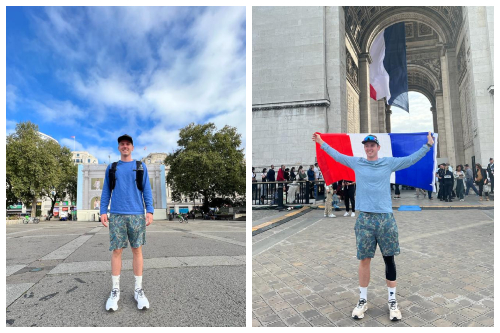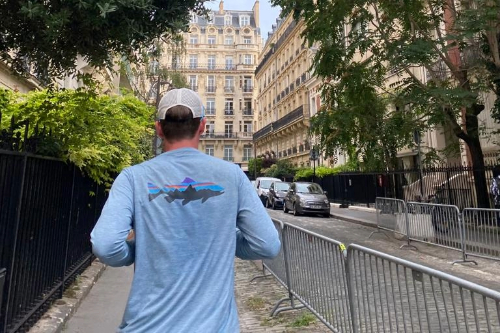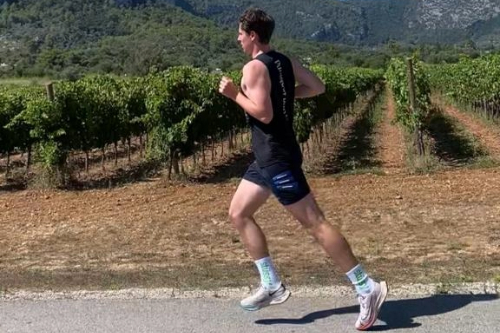 Press release issued: 21 September 2023
A 20-year-old who only started running this year has completed seven marathons in seven days.
Lucca Froud's epic journey took him from London to Paris – all in the aid of WildFish, a charity that campaigns to protect fish and their waters.
Although a keen footballer, the University of Bristol Politics and International Relations student only started running at the beginning of 2023.
But inspired by a meeting with WildFish's CEO, he decided to run from Marble Arch to the Arc de Triomphe in the hope of raising £35,000.
He said the challenge had been the "best and worst thing" he had ever done, as he battled calf and knee injuries and "relentless hot weather".
On day one, the heavy support bicycle his girlfriend was riding broke and they were left pushing it uphill, and after his fifth marathon on Sunday he was left without food or water with all the shops closed.
"At times it felt impossible, but we found a way to make it happen," said Lucca.
"Knowing that you aren't doing it just for yourself, but for something important and to make your family and your girlfriend's family proud, makes it easier. The support from friends and family and people online has been amazing too.
"We walked the last few miles to the Arc de Triomphe just taking it all in – we kept looking at each other like 'this is really happening, we are really going to do it'."
Lucca ran for around 5 hours each day during the 200-mile challenge, finishing in Paris on Tuesday at 5pm.
Late one night, delirious after more than 100 miles of running, Lucca thought he saw a bear in the half-light. Out of nowhere, he managed to drag his tired legs into a sprint for the final mile of the route.
Lucca has already raised £8,000 for WildFish and is hoping to see more donations stream in this week. On Saturday he returns to his studies at the University of Bristol.
Lucca said: "If you really believe in something you should do what you can to help.
"Climate change is the most significant threat to humans and the natural world. Central to preventing it is our natural waters, our ocean and our rivers. Aside from being incredibly beautiful ecosystems, they're incredible carbon sinks. So it's in everyone's collective interest to protect them."
Nick Measham, Chief Executive of WildFish, said: "We hope that Lucca's enthusiasm for wild fish conservation and this remarkable test of endurance will help to raise awareness of the urgent need for change."
To donate visit Lucca's JustGiving page.