View all news
'It's an incredible feeling!' - Bristol into its first University Challenge semi-final tonight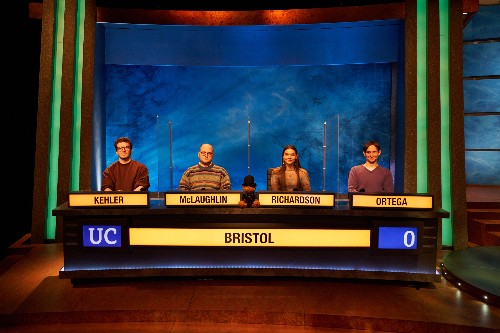 Press release issued: 22 May 2023
The University of Bristol is into the semi-finals of University Challenge for the first time.
Bristol's talented team of four have already beaten Oriel College Oxford, Queen's University Belfast, Newnham College Cambridge and University College London.
Tonight [May 22] at 8.30pm they square off against Southampton on BBC Two and BBC iPlayer.
In Bristol's last match on April 10, quizmaster Jeremy Paxman praised the team's "increasingly impressive scores" and said they had "answered particularly well on poetry, philosophy and US geography".
Bristol has made several quarter-finals (and one final in a Christmas special featuring famous alumni), but are thought to have never made a semi-finals. However, some records and recordings from the 1970s are lost.
Today, the University's Vice-Chancellor wished "this wonderfully talented team all the luck in the world".
The team has an average age of 21 and is made up of captain Tess Richardson (BSc Chemistry), Jacob McLaughlin (BSc Economics and Mathematics), Sam Kehler (Medicine) and Alejandro Ortega (MSci Physics and Philosophy).
Tess, who watched all University Challenge shows three times before the competition began, said: "I can't believe the whole process started well over a year ago in 2021 with the trials to get onto the team. It really doesn't feel that long ago that I saw the trials advertised and thought maybe I'd give it a shot.
"I never expected to make it onto the team never mind come this far - and to be the first Bristol team to make it to the semi-finals feels incredible!
"It's been amazing watching it back and reliving the experience, although some parts were harder to watch than others. I am so incredibly proud of our team and how well we've done, and it'll certainly be an experience that I'll never forget."
The team had to take test papers and interviews to make the starting line-up of 28 universities on the 52nd series of the show.
Since their first match in August the team have scored an impressive average score of 195 points per game.
Prof Evelyn Welch, the University of Bristol's Vice-Chancellor and President, said: "Tess, Sam, Alejandro and Jacob have been hugely impressive, both in terms of their individual knowledge and their magnificent teamwork.
"On behalf of the entire University community I'd like to wish this wonderfully talented team all the luck in the world."
The winner of tonight's clash will face Durham in the finals, after they vanquished Royal Holloway London last Monday [15 May].
Further information
Extensive University Challenge records are kept on Sean Blanchflower's website. However, some records from the 1970s remain lost. Sean is keen to hear from anyone with knowledge about that era.